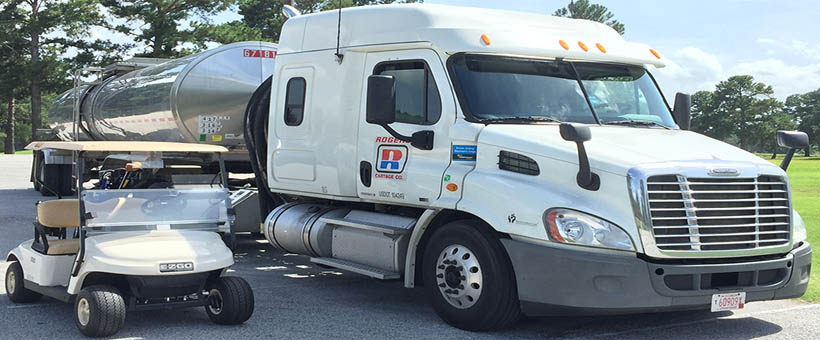 For Some Drivers, Down Time Means Tee Time
By Al Muskewitz
Wright Media Editor-in-Chief
Travis Griffin and Robert H. Carroll are a couple of golfers who have clubs, will travel and with the kind of job they have they're never far away from a golf course.
They're both over-the-road truckers and as avid golfers you can imagine the emotional tug on their sleeve as they zip past the many courses adjacent to the highway on their way to delivering a load.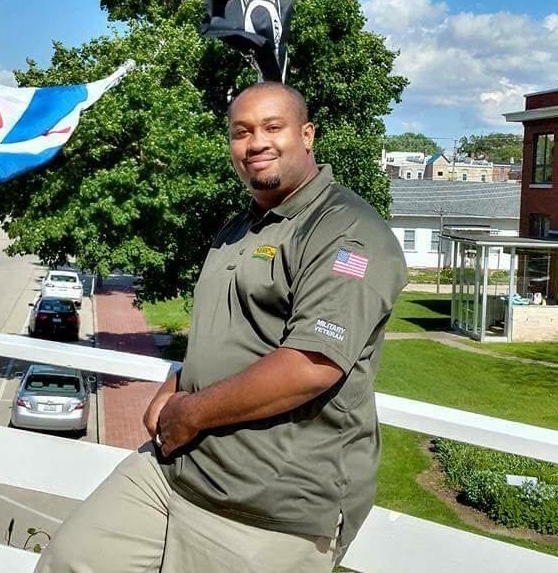 Drivers have all sorts of options for enjoying their down time with the truck – what do you do? – and what these two choose to do with their off-duty time is play golf. While they don't play on the clock, you're likely to find them on the course whenever it fits in the schedule.
Griffin, a dry van owner-operator hauling general freight for USA Truck, hits the links whenever his 34-hour reset finds him away from his Illinois home. Carroll, a tanker driver for Rogers Cartage also known as The Golfing Trucker, looks for a nearby course to bring to the public whenever he's got a substantial break in his load.
They figure between them they've played in 33 states on their travels. They come across a lot of drivers in the truck stops who like to play, but they've never put together a game with another driver while on the road.
"I have no idea" if there are a lot of other truckers out there that play on the road, Griffin said. "That's why I made the Facebook post, 'Am I the only one that's a trucker who goes on the golf course whenever I can?' I put that in a trucking group and everyone was pretty much you're the only one."
Griffin, 31, is a pretty good player, not just a guy who plays. Before a recent surgery, he was carrying a plus-4.3 handicap index from the back tees, and once he got back to playing he shot 73 his first time out. For those unfamiliar with the nuances of the game that means he's already 4-under-par when he steps on the first tee. (Top line PGA Tour pros like Phil Mickelson, Bubba Watson and Paul Casey play anywhere from +5 to +7.7).
It just begged the question why is he out driving a truck instead of playing on somebody's tour – maybe even the big Tour – for fame and fortune. With the scores he shoots his local PGA Section pros told him he could play in any tournament he pleases. If he hadn't hurt his back last year he would've tried to qualify for the PGA Tour's John Deere Classic that is closest to his home and is confident from the history of good play he's had on the course there he would have made it.
Who doesn't dream of going pro, and that's his ultimate goal, but there's one big roadblock in the way.
"I haven't been able to play in any major tournaments because qualifying rounds are during the week," he said. "And I've got to save up money because I don't have a sponsor. Now, if I had a sponsor I wouldn't have my ass in a truck. I'd be playing golf 24/7."
It's not unheard of for a truck driver to make it on the Tour. Mark Johnson drove a beer truck for the 18 years from the time he gave up playing the mini-tours to getting back in the game on the Canadian and Nationwide Tours before joining the PGA Champions Tour – sponsored by the company he drove for. The Beer Man, as he was known in the galleries, won a Champions Tour event in 2005.
So while Griffin awaits a shot to fulfill his dream he sharpens his competitive edge in local and military tournaments and works on his game at various Top Golf facilities along his route.
It's not like they have to go miles out of the way to play. While many golf courses are tucked off the beaten path to enhance their aesthetics and serenity, there are numerous facilities within eyeball distance of the interstate. In 2017, Golf Advisor reprinted a GolfVacationInsider.com feature focusing on the finest highway-side golf courses in the country.
Golf courses aren't exactly a place you'd expect to see an 18-wheeler for an extended period, unless, of course, it's the Tour or TV production trucks in the run up to a major tournament. And certainly not in the main parking lot. But Griffin and Carroll have made their way to some interesting reactions.
Most of the time Griffin will park his truck and call a ride service to shuttle him to the course. If he's bobtailing, he'll pull in, find a suitable place to park, then hop out with the Green Bay Packers-themed golf bag and head to the pro shop. Carroll has been known to bring the whole rig onto the property.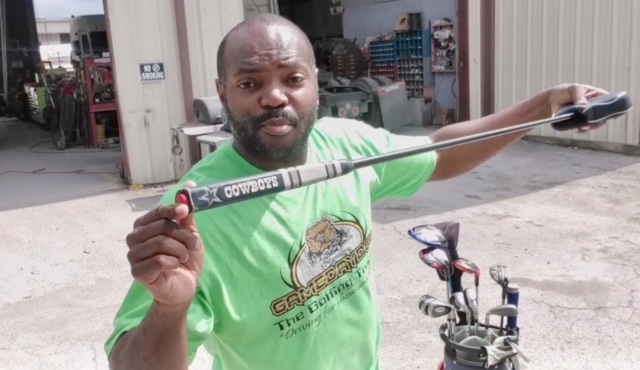 "There are a few spots where initially people just stop and stare," Carroll said. "If you have a tractor-trailer and go down a road nobody has seen one go down before they kind of stare at you with their mouth open and their heads turned in slow motion and you're like, 'should I be going down that road?' Now, there are people who don't pay me any attention I go frequently. It's like, 'OK, it's that golfing trucker guy.'"
Carroll plays every chance he gets when he's home in Florida, but it never dawned on him to take the sticks on the road until he got his own truck and found himself in Indiana on a Sunday waiting on a customer that didn't open until Monday. As soon as he got home from the trip he threw the sticks in the truck and he's been a phone call from the first tee ever since.
If he gets an assignment early enough he'll scout out places to play along the route, and even see how the parking lot looks. He'll call the factory to see if he can leave the trailer for a few hours, then bobtail to the course.
It helps, of course, to have understanding administrators.
"It's about the type of relationship you have with your company, if your boss will work with you," Carroll said. "My boss plays golf. My dispatcher knows I love golf. If there's a downtime she will happily tell me to go play golf. It's like I don't know how long it's going to take, go down to the links, go play golf. When I finish delivering I'll ask the factory if I could leave trailer on the property and go play golf couple hours and most say yeah, go ahead."
He's taken his 34-hour break at a golf course in Georgia that has left the outside facilities open for his use and he's been to courses in the Houston area that allow him to park the whole truck and sleep on the property before playing there the next day.
Another time he was in Kentucky. He took the truck to a course that was about to close for the day, but the owner told him he could walk to play until it got dark if he wished. As soon as he got home he bought a pull cart and put it on his hose rack. That's when they started calling him the Golfing Trucker.
Carroll may not be as prolific a player as Griffin – he describes his game as "one stroke better than my opponent" – but his passion for the game has grown into a second career that supports a website, a Facebook page, videos and novelties. The idea started with sending a few pictures from his travels for his golfing buddies, but now it's evolved into a chronicle of his travels, which for an over-the-road trucker is a cross-country proposition.
"People aren't coming to see great golf, they're coming to be entertained, first and last," he assured. "Playing decent golf is way down on the list."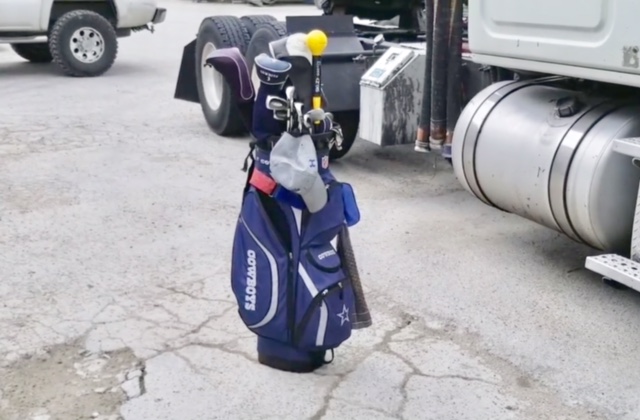 Top inset: Illinois driver Travis Griffin posts scores that would give tour pros a run. Bottom inset: Florida driver Robert H. Carroll, aka The Golfing Trucker (that's his truck at the top and bag at the bottom).