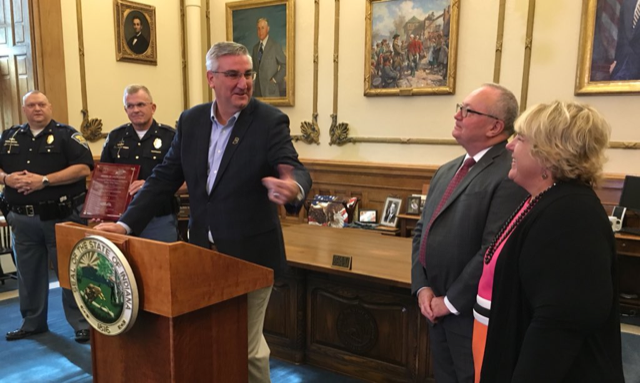 Indiana recognized for enforcement efforts
By Al Muskewitz
Wright Media Editor-in-Chief
When Gary Langston talks with carriers and industry leaders around his state it doesn't take long for someone to mention how hard it is for their trucks to get through Indiana.
It really isn't that difficult if they're doing the right thing. But when the Indiana Motor Truck Association president asks about the issue that makes it so difficult for them the response usually involves owning up to some type of violation that's been committed.
The Indiana State Police's commercial vehicle enforcement division has a reputation for proactive diligence. For the second time in as many reporting cycles Indiana is the top state in in the country for maximizing their enforcement resources while minimizing their share of the nation's truck crashes.
The designation was part of the American Transportation Research Institute's latest Crash Predictor Model. Indiana was first in the 2011 report as well. ATRI recognized the state's efforts in Gov. Eric Holcomb's office Wednesday morning.
"I think it's really great that the commercial vehicle enforcement division of the Indiana State Police received the positive recognition they received today," Langston said. "They're very efficient with their resources. They don't use a shotgun they use a sniper rifle with regards to enforcement. That's what makes them No. 1 – the wise and efficient use of data they have available to them to know where to look in an effort to identify the great possibility of crashes.
"There are other states that have a lot more inspections than Indiana but they focus more on having a clearance light out or a turn signal out, which are also important, but don't as directly relate to a predictable crash … as the other driver behaviors that are proven, have been proven, continue to prove they cause accidents.
"Our entire focus is safety and everything we can to improve the safety of the motoring public in Indiana we do and I'm just so proud they were recognized for that today."
Indiana conducted 31,023 enforcement inspections during the research window –second only to California – and recorded 4,833 crashes for a minus-4.86 percent differential.
ISP spokesman Capt. David Bursten said the award was "an affirmation to the Indiana State Police that we are concentrating on the right thing to keep the roads as safe as possible."
Here is the top 10:
Indiana -4.86
New Mexico -3.18
Washington -2.61
California -2.32
Maryland -1.99
Iowa -1.34
Nevada -1.11
Arizona -0.99
Kentucky -0.98
Illinois -0.75
"Because of the tireless work of our men and women in law enforcement, Indiana is the No. 1, top tier state for effective commercial vehicle enforcement," Gov. Holcomb said. "Once again, Indiana is leading the way when it comes to improving the safety of our motorists.
"For us to be recognized as leading the way is very meaningful. I'm proud to stand with these men and women who wake up each and every day and don't know what's coming at them, but they just knock it out of the park."
Photo: Indiana Gov. Eric Holcomb speaks to Indiana Motor Truck Association president Gary Langston and ATRI president Rebecca Brewster during recognition ceremonies in the governor's office.