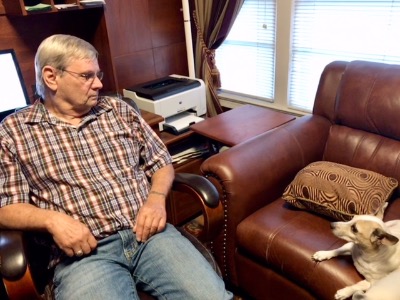 Trucking With A Four-Legged Friend
By Al Muskewitz
Editor in Chief
Paul Schmuck loves driving his truck. He also loves Chip, his Jack Russell terrier. He couldn't imagine being on the road without him.
Chip has gone along for the ride ever since Schmuck got him as a six-week-old pup. That was 11½ years ago and they've been riding side-by-side ever since, even to places Chip had to keep on the down low because he wasn't necessarily welcome.
At first, it was out of necessity; Paul had runs to make and his wife worked away from the house so no one was home to check in on the loveable pup during the day. Now, Chip goes everywhere and if you saw the way he springs into action whenever Paul approaches the door you know he actually looks forward to the trips.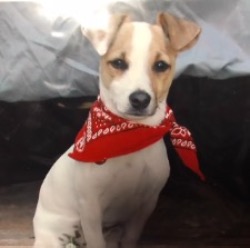 "I started carrying him with me when he was just a little ol' bitty guy," Schmuck said. "I take him everywhere. He's my buddy."
Let's face it, being out on the road, whether it's hauling construction material across the state or moving freight across the country, can be a lonely prospect. Many carriers offer accommodations for drivers who have a pet.
A 2015 trucker poll found 60 percent of over-the-road drivers are pet owners and 40 percent take their pets with them on the road. The trucking blog Truckingtruth.com recently updated a list of 60 carriers that have pet policies and the list continually grows as carriers seek solutions to attract new drivers and retain the ones they have.
"It gives someone a companion," K&B Transportation director of recruiting Sean Barragan said when introducing his company's pet policy to Hiremaster.com in February. "Honestly, as a trucker, they go days, even weeks, at a time – sometimes months – without seeing a familiar face. That's where some people like a dog for a companion. This gives them the opportunity to do so."
As the owner of his own small central Alabama trucking company, Schmuck can make the rules regarding pets for his drivers. None of the other drivers in his fleet of Peterbilt dump trucks has a pet, but he wouldn't mind if they did and wanted to take it along for company.
Most pet-friendly companies limit trucking with pets to dogs and cats, contain size and breed restrictions, require up-to-date health and vaccination records and require security deposits or cleaning fees, portions of which can be financed and may be refunded when the pet is no longer in the truck.
Roehl, for example, allows pre-approved non-aggressive breed dogs of less than 60 pounds and cats. It provides pet waste receptacles and exercise areas at its terminals and regularly features its drivers and their pets in a Facebook offering called Pawsitively Roehl.
In one of the videos, Roehl driver Joey Smith said he joined company because of its pet policy and now he and dog Milo "can see the country together."
Another Roehl driver, Jason Sickler, said having dog Tyke along for the ride "allows me to bring a part of home with me while I'm gone."
USA Truck, U.S. Xpress and Western Express all limit pets to one domestic dog or cat that should never be outside the truck when it's on a customer's property and removed from the truck during any servicing or maintenance. They all carry a $500 non-refundable fee.
West Side Transport allows up to two dogs but no at more than 40 pounds combined weight. It requires a $1750 deposit.
Carriers that don't allow pets aren't animal haters; the type of freight they haul, like foodstuffs or medical equipment, simply doesn't make it conducive for pets to ride along. Drivers should check with prospective employers for policy specifics.
Here is a list of Hiremaster clients that allow pets:
Butler Transport, CalArk, Covenant Transport, Crete Carriers, J.S. Helwig & Sons, K&B Transportation, Knight Transportation, May Trucking, Melton Truck Lines, Ozark Motor Lines, P&S Transportation, Roehl Transport, Southern Refrigerated Transport, U.S. Xpress, USA Truck, Western Express, West Side Transport, XPO Logistics.
Photo: Alabama trucker Paul Schmuck spends some quality home time with his Jack Russell terrier, Chip, before the two head back out on the road.