Empire Express, a Memphis, Tenn.-based carrier dedicated to delivering its no-touch freight in a safe and timely manner, is now offering its drivers the largest pay increase in company history.

Starting April 1, Empire OTR drivers will earn between 55 and 65 cents per mile depending on experience. The increase represents a bump of 3 to 7 CPM from its previous pay scale.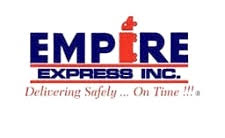 Regional and dedicated drivers will earn between 49 and 55 cents per mile – a 2 CPM increase across the board – and city drivers will increase $2 per hour. Owner operator pay will increase 5 CPM, to $1.20 per mile.
Ed Gatlin founded Empire Express, Inc., in 1985 to help a group of drivers who had been loyal to him in a smaller fleet that had been rejected by a big multi-national corporation and has grown it into one of the recognized leaders in its segment of the industry.

The carrier now serves the 48 continental states, Mexico, and Canada, and handles no-touch cargo that requires time-sensitivity, safety-sensitivity or both with premium equipment that carries the latest technology. It recently purchased more than 100 2020 and 2021 Peterbilt 579s and the average age of its trailers is less than 10 years.

Thirty-five percent of Empire Express' loads are packaged chemicals or related products (agricultural chemicals and poisons, paint-related materials and styrene's, polymers and other chemicals used by the chemical process industry), but it also hauls clothing and apparel, air cargo, home and office products, packaging and containers, paper products, retail goods, electronics, cotton and general commodities.

"Our philosophy, 'Treat People Right,' started with founder and owner, Ed Gatlin, back in 1985," the company says. "To 'Treat People Right' is the way we do business and it applies to all aspects of Empire Express. It's part of our culture."

During the announcement of the pay increase, Empire Express recognized its Drivers of the Year – Troy Salois and Marvel Taylor.

Salois is the Danny Dangar Driver of the Year award winner and Taylor is the Ken Tankersley Driver of the Year.

Salois has been a professional driver for nearly 40 years, the last 10 with Empire Express. Taylor and his wife of 16 years, Janet, are both Empire Express drivers.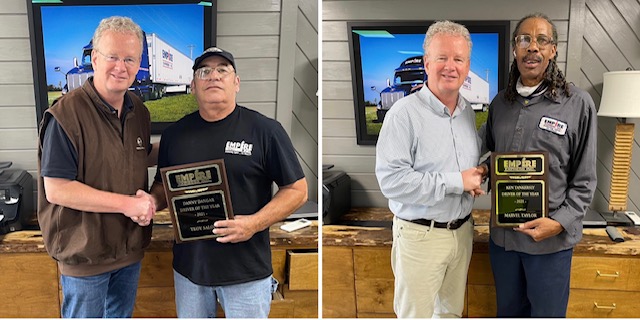 Empire Express president and CEO Tim Gatlin congratulates 2021 drivers of the year Troy Salois (L) and Marvel Taylor.