By Al Muskewitz

WEDOWEE, Ala. – When LB3 owner Brian Lindley read Jason Webber's name as the winner of the company's third annual Jeff Watson Truck Driving Challenge there was no more surprised person in the room than the winner himself.

Truth be told, Webber, a 22-year driving veteran with nearly 3 million safe miles currently under his tires, wasn't even trying to win it. He was competing more to show his son, Alex, one of three young drivers in the LB3 stable from the CDL training program at Central Alabama Community College, the ropes.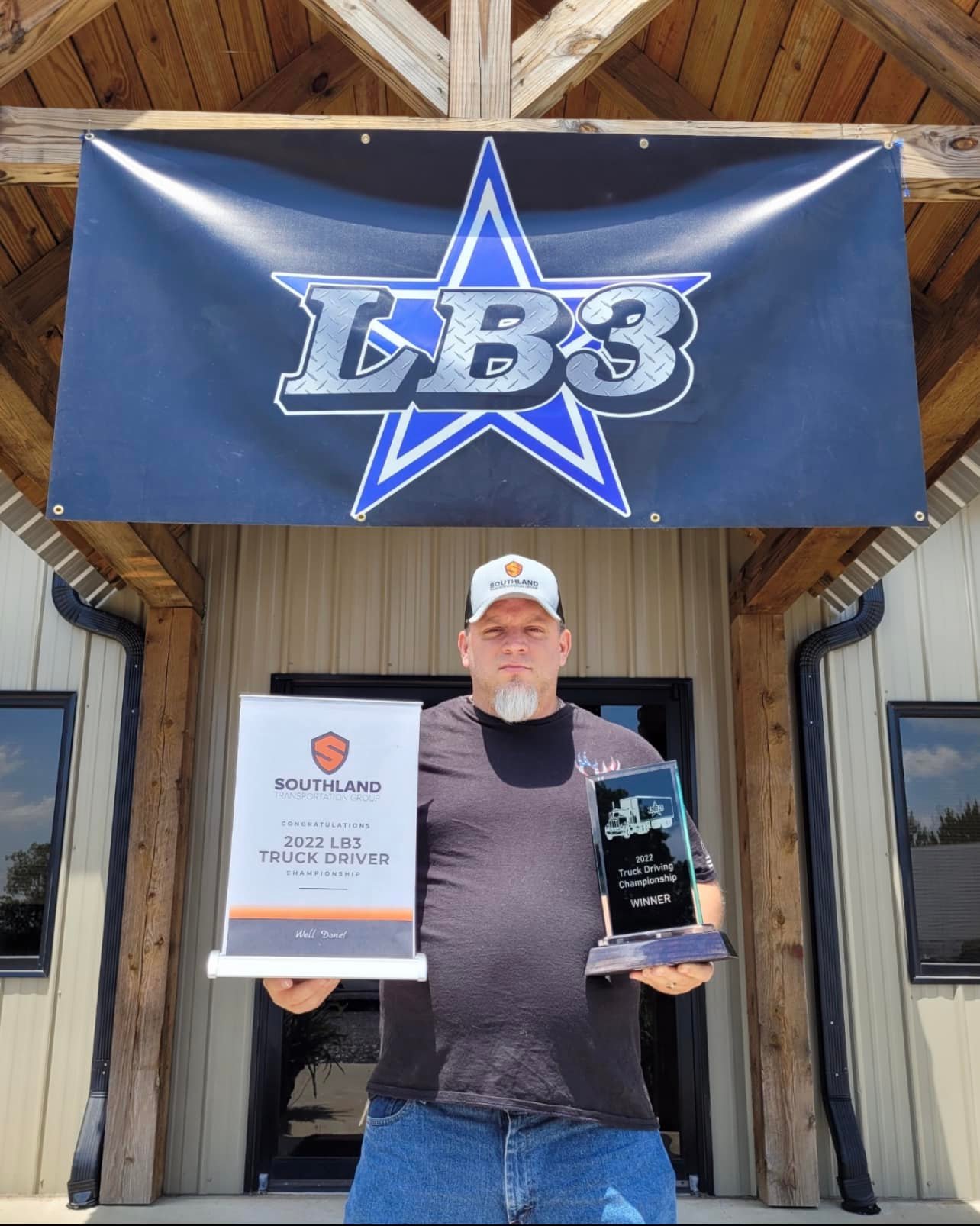 And, really, he was just doing what he would do every day on his dedicated run hauling paper into Pennsylvania. It just happened that his score carried him to the top. His winning score was 70 points ahead of Nathan Heflin, another veteran LB3 driver who won the state competition last year.

The 43-year-old Webber scored points on five of the six obstacles, aced the serpentine curve that opened the course, and scored a perfect 100 on his pre-trip score.

"I wasn't expecting to win it because I didn't try to," he said. "I just got out there and did what I do every day.

"My son works for us, too, and I was wanting him to place higher to kind of pick him up. I'm not worried about me. I've been in this 22 years, it's nothing new to me, but I wanted him to experience what it was like to be built up like that by truck drivers and all of aa sudden they announced me the winner and I was like, what."

As the top two placers, Webber and Heflin will be carrying the LB3 banner at the Alabama Trucking Association's State TDC May 27 in Pelham. They will be among more than 70 drivers looking to win division honors and represent the state at the return of the National TDC Aug. 16-20 in Indianapolis.

What makes it exciting for Webber is the competition returns to the outdoor course for the first time since 2019. Wedowee, Ala.-based LB3 held in-house competitions the last three years as part of a day-long celebration of company, but the formal state and national TDCs were canceled in 2020 and 2021 due to COVID concerns and revived last year as a stay-and-home Battle of the States on-line competition.

Heflin and Webber competed in the national contest last year in front of their computer screens, but there's nothing like getting back on the course.

"The book work part of it for me is kind of hard because it's hard for me to focus when I'm studying because my mind goes every which way," Webber said. "Getting out there on the course gives me a better opportunity to compete with everybody rather than just the bookwork."

The everyday approach that worked so well for him in the company competition is what he'll take into the state event.

"I tried last year (in the company competition) and came in second and this year I didn't even try and came in first," he said. "I might as well not even try, that way I'm more comfortable. If I get it in my head that I'm trying to win, trying to win, I'll start getting anxious and I'll mess up. I'm just going to do what I do every day and hopefully it's good enough."

And what he does every day starts with safety. All professional drivers put safety first, but LB3 takes it to another level, starting with the simple philosophy of focusing on the little things to eliminate the big problem.

The company's safety record is regularly recognized by the Alabama Trucking Association and this year received the ATA Comp Fund's Safety Excellence Award. Heflin and Webber were the 2020 ATA Fleet Safety Driver of the Year and Runner-up.

"Safety is No. 1," Webber said. "If the truck isn't safe, I'm not going to make it home to my family much less anybody else out here on the road I'm passing.

"When I look out my truck to a car, I see my family in that car, no matter what car it is, where it is. And if my truck's not safe riding that road, it will not ride that road until it gets fixed. It's my No. 1 priority. I'm hauling 80,000 pounds. I can't chance taking a risk to make a mistake."

Cover photo: Alabama Trucking Association vice president of safety/compliance Tim Frazier details the obstacles on the skills course for LB3's third annual Jeff Watson Truck Driving Challenge. Inset photo: TDC winner Jason Webber.