'Excited' Thompson Wins Alabama TDC for Second Time
By Al Muskewitz

PELHAM, Ala. – After seven division wins in 10 years in three different classes and one Grand Champion title, you might think going to the podium to pick up another award might seem a little routine to veteran FedEx Freight driver Daniel Thompson. But winning never gets old.

When they called Thompson's name Friday night to collect the winner's plaque in the twins division – that's eight in 11 years – and then as Grand Champion of the Alabama Truck Driving Championships for the second time in his career, he was just as excited as the first time he won. So much so, he did an impromptu dance on his way to collecting the award from Alabama Trucking Association CEO Mark Colson.


"I can't believe this, I can't believe this," Thompson said immediately after the awards banquet ended. "You talk about being blessed.

"I've always been extremely excited about winning. The main reason is because it takes so much to be a winner. These gentlemen in here are the best of the best. They don't make mistakes, so the only way you're going to beat them is make zero mistakes, zero flaws."

He came close to that. The 42-year veteran driver from Spanish Fort (35 with FedEx Freight) picked up his two wins with 385 points. He won his second Grand Champion award by only 17.5 points over Straight Truck winner and 2019 Alabama Grand Champion David Hawk, also of FedEx Freight.

In fact, FedEx Freight claimed five of the eight spots Alabama will take to the National TDC in Indianapolis later this summer – Thompson, Hawk, William Brandon (4-axle), Thomas Garner (flatbed) and John Carter (tank truck). The company has won 24 of 35 possible division titles over the last four years Alabama has staged the event on a skills course.

The other winners this year were LB3 in-house champion Jason Webber (sleeper berth), 2007 National TDC champion Alphonso Lewis of Yellow (5-axle) and Tony Johnson of TForce Freight (3-axle). There were not enough entries for the state to compete in step van.

Thompson, 62, is unabashedly pro-trucking and even goes into the local schools as a member of the FedEx and Alabama Road Teams to talk with students about the industry. In his mind, all of his fellow competitors at the TDC are winners even if they didn't get recognized Friday night.

"Other drivers will say I'm not going to place or I'm not going to win," the champion said. "I tell all these other drivers you were accident-free for a year, you've already won before you even walk in the building; you really have.

"As anybody who's ever driven a tractor-trailer for any period of time knows it's a difficult job. It's a rewarding job, but it's a difficult job."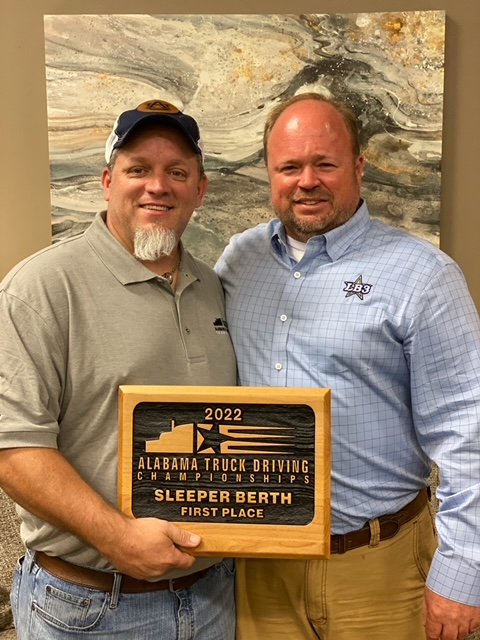 He doesn't take any of his wins for granted. In fact, he takes finishing second or third just as intensely on the disappointing scale as he does celebrating a victory. Winning the title the first time, he said, took him to another level of awareness.

"It changed my life," he said. "I've always been a safe driver, but it made me such an ultra-safe driver that all I do is preach safety to everybody."

More than 70 drivers from across the state – nearly 20 rookies – took part in what Colson called a day "celebrating professional drivers" in the first outdoor TDC since Hawk's win in 2019. There were 17 Alabama Troopers on hand to serve as judges on the "moderately tough" skills course and pre-trip, 15 of whom were gladly participating for the first time.

"Several months ago we started sending out registrations to the companies and it was like kids in a candy store; they started coming in fast," said ATA vice president for safety and compliance Tim Frazier, the awards banquet's master of ceremonies. "They were just excited to be able to have it after being off for two years. This is their event."

Once the drivers got on the course, they were scored on their ability to negotiate a rear stop line, the front stop bull's eye, two right turns, a curb line and the diminishing alley. "It's been a good course," Frazier said.

While it may not have been the largest field of competitors, it certainly was one of the most spirited. Mark Deason, a FedEx Freight driver from Mobile who finished third in last year's statewide virtual contest and was "excited" the competition returned to the course, drew an enthusiastic response from the gallery after clearing both barrels in the two right turns in the middle of the course.

After pulling past the first barrel, it looked like he was going to miss the second by a wide margin, but brought it back in and cleared it with inches to spare, prompting a hearty fist pump from the trooper judging the station.

"This is all about safety," Frazier said. "It shows how talented these individuals are in handling a piece of equipment. To be able to dodge an obstacle, to be able to maneuver that thing in tight places. Some of the areas we go into to make deliveries, it's unreal what they have to get into, so this just shows that talent."


ALABAMA TRUCK DRIVING CHAMPIONSHIPS
Grand Champion: Daniel Thompson, FedEx Freight
Straight Truck: David Hawk, FedEx Freight
3-Axle: Tony Johnson, TForce Freight
4-Axle: William Brandon, FedEx Freight
5-Axle: Alphonso Lewis, Yellow
Sleeper Berth: Jason Webber, LB3
Flatbed: Thomas Garner, FedEx Freight
Tank Truck: John Carter, FedEx Freight
Twins: Daniel Thompson, FedEx Freight
Rookie of the Year: Steven Speer, Walmart (Flatbed)
Pre-Trip: Rusty Holmes, Triple R Metals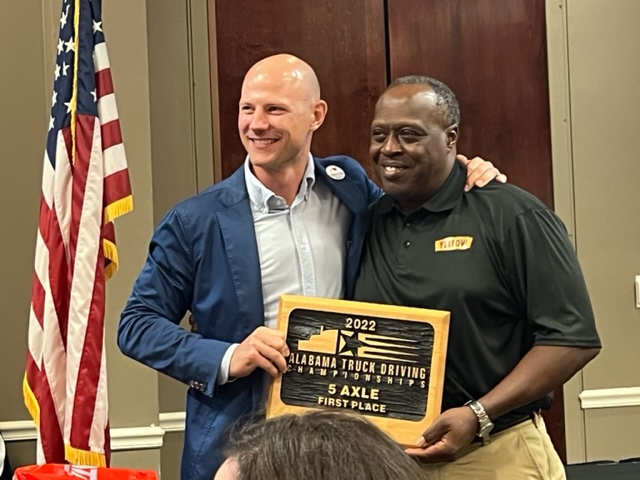 Top photo: Daniel Thompson of FedEx Freight acknowledges the crowd after being named Grand Champion of the Alabama Truck Driving Championships Friday. Top inset: Thompson enthusiastically acce[ts his plaque for winning the Twins division from ATA CEO Mark Colson. Lower inset: LB3's Jason Webber won his company's TDC earlier this month and Friday stands with owner Brian Lindley after winning the ATA Sleeper Berth division. Bottom photo: Former national champion Alphonso Lewis stands with Colson after winning 5-Axel for his 10th trip to the National TDC.