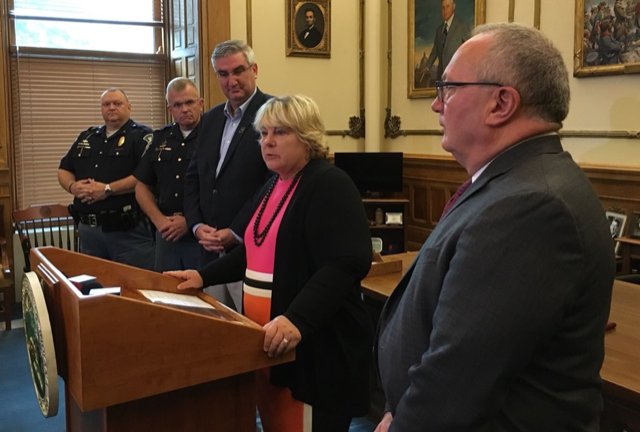 ATRI Releases Latest Crash Predictor Model
By Al Muskewitz
Wright Media Editor-in-Chief
The American Transportation Research Institute has updated its Crash Predictor Model and found two driving violations in particular "more than 100 percent" increase the likelihood of a future crash.
The data also indicates women truck drivers were safer than their male counterparts in every statistically significant driving behavior.
The latest analysis, released Tuesday, draws on data from more than 435,000 drivers over a two-year period (2013-2014) – a sample resulting in nearly 1.3 million inspections with 62,000 resulting in a driver being placed out-of-service – to expose nearly a dozen behaviors that raise a driver's risk of being involved in a future truck crash by more than 50 percent.
"Safety is our first concern and by understanding how driver histories relate to future crash probability we can develop targeted solutions for minimizing safety risks," Josh M. Prewitt, president of Tideport Distributing Inc., said in an ATRI news release announcing the survey results.
Two specific types of violations were the strongest predictors of a future crash, the study yielded. Reckless driving violations increased the probability of a future crash by 114 percent, while failure to yield violations increased the likelihood by 101 percent. Convictions for failure to keep in proper lane and failure to use/improper signal increased a crash likelihood more than 80 percent.
Drivers with any OOS violation were 29 percent more likely than their peers to be involved in a future crash, while drivers with any moving violation were 35 percent more likely to be involved in a future crash.
In spite of those statistics, U.S. Department of Transportation statistics indicate crash rates for large trucks per 100M vehicle miles traveled have decreased 30 percent from 2000 to 2015, although they have been trending upwards in recent years.
The ATRI findings should have wide ranging implications for the trucking and insurance industries.
"The overall message for the trucking industry and even the insurance industry is we need to start coming up with customized targeted safety training regimens because we no longer need to assume a generic regimen is adequate any more," ATRI vice-president for research Dan Murray told Wright Media Tuesday.
Interestingly, the percentage of drivers with out-of-service violations dropped more than 8.5 percent in 2018 from 2011. Hour of service violations fell nearly 8 percent in the same time period and violations for a false or no logbook dropped nearly 40 percent from the 2011 figure, and Murray predicts they'll fall even farther with the full enforcement of ELDs.
This latest version of the model incorporated an age and gender element for the first time and what could be, in Murray's words, the "biggest sleeper findings" in the research was what it revealed about the safety record of female drivers.
The gender analysis affirms attracting more female drivers can generate "powerful safety benefits" beyond addressing the driver shortage. Female drivers are 20 percent less likely to have a crash and as much as 88 percent less likely to engage in other at-risk behaviors, the study concluded, factors that could incentivize the insurance industry to espouse the benefits of hiring more women drivers.
"Women ARE safer drivers!," the Women in Trucking Association wrote on its twitter page in reporting the release of the ATRI report.
"We've always known that women were as good, if not better, than their male counterparts as professional drivers," WITA president and CEO Ellen Voie told Wright Media. "These findings confirm our focus on safety when it comes to female drivers and since safety is a priority in the trucking industry we need to increase our efforts to attract and retain more women. This has always been the mission of the Women In Trucking Association."
ATRI also provided a list of "top tier" states that have proven track records of maximizing their enforcement resources while minimizing their share of the nation's truck crashes. Indiana tops the list with a minus-4.86 difference in traffic enforcement inspections to crashes, followed by New Mexico (minus-3.18), Washington (minus-2.61), California (minus-2.32) and Maryland (minus-1.99). Texas (8.16) ranked 50th.
Only California conducted more traffic enforcement inspections than Indiana during the survey window, but the Hoosier State recorded nearly 6,000 fewer truck crashes.
Indiana also was the top state in 2011 as well. ATRI publicly recognized the Indiana State Police and its commercial vehicle enforcement division for its work in Gov. Eric Holcomb's office today.
"It was a true honor that they ranked us No. 1 as taking enforcement action that is most relative to reducing causation factors for crashes involving large trucks," Capt. David Bursten, chief public information officer for the Indiana State Police, said. "This award today is an affirmation to the Indiana State Police that we are concentrating on the right thing to keep the roads as safe as possible."
"The enforcement division is not always the most popular group of people out there ... but the reason I believe this recognition today is so important is because it's proof that what they do makes a difference," Indiana Motor Truck Association president Gary Langston said. "They do it the right way and have no other agenda other than to improve safety and it's doing that and I'm happy about it."
To read the full report visit atri-online.org.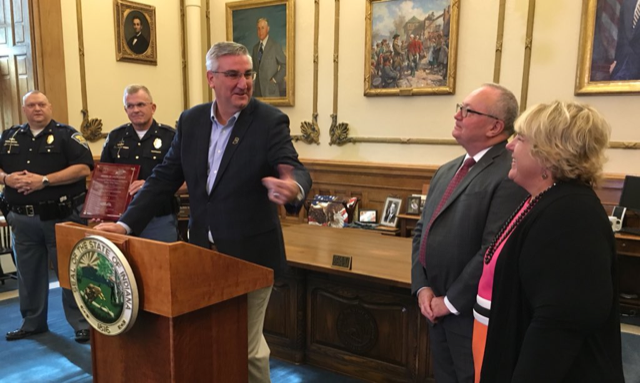 Top photo: ATRI president Rebecca Brewster presents an award to Indiana Gov. Eric Holcomb (to her right) today recognizing the Indiana State Police's No. 1 national ranking for enforcement action of violations that contribute to CV crashes. Indiana Motor Truck Association president Gary Langston is to Brewster's left. Bottom photo: Gov. Holcomb speaks to Langston and Brewster from the podium.