Road Team finalist Coolidge has done a lot in a short time
By Al Muskewitz
Wright Media Editor in Chief
April Coolidge has had a lot of positive experiences in her short time in the trucking industry, but the recognition she received last week easily stands at the top of her list.
Coolidge, a dry van driver in USA Truck's dedicated division a few weeks shy of her sixth anniversary in the industry, is one of 34 drivers – and four women – named to the list of finalists to become a captain in the next term of America's Road Team.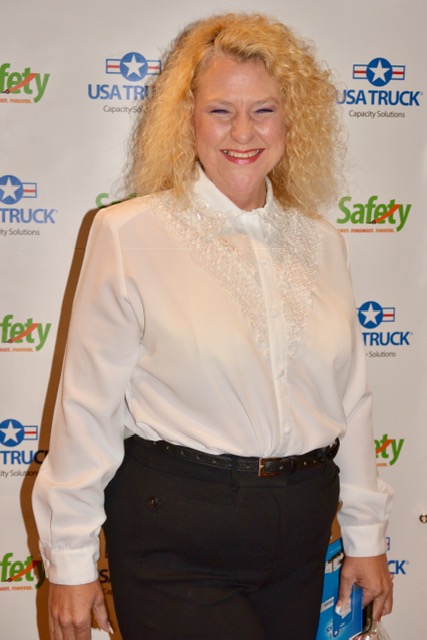 "I've had a lot of experiences in my life, but this is the highlight of my career; I almost can't express in words what it means to me," she said during a recent unload in North Carolina. "This validates everything I do in my job as far as safety and representing the trucking industry out here.
"To be among the finalists for the America's Road Team is something I have wanted for … ever. To be validated and have made the finalists is just, for the lack of a better word, awesome."
America's Road Team is the American Trucking Association's ambassadorial program for the trucking industry. Its captains attend industry events, speak at schools and meet with government leaders and policymakers all on behalf of the industry.
To be nominated for the Team a driver must be employed or leased to an ATA member company, have an excellent safety record and demonstrate an ability to communicate their commitment to safety and passion for the industry. The captains for the 2019-20 Road Team term will be announced Jan. 30 in Washington, D.C.
Although Coolidge has only been a professional driver a short time, trucking has long been in her blood. Her father retired as a driver from both Consolidated Freightways and Yellow/YRC. She had been selling real estate in Charlotte, N.C., and finally got behind the wheel in 2012.
"When real estate went to heck in a hand basket in 2008 I had to think what am I going to do with myself," she said. "My dad has been a professional driver my entire life and made a very good living for our family and I knew I didn't want to go back to school to take out student loans or go back to college or anything.
"So, I thought what could I do to earn a living and I just joked with my dad and said 'I want to do what you're doing' and he said what's that and I said 'I want to drive a big truck.' I don't think he envisioned his baby girl here in this big, bad trucker world, but he saw I was serious. I went to truck driving school in August 2012 and I've just been blessed since Day One with my driving career."
Coolidge has more than 650,000 safe miles on her record and has demonstrated her driving skill and commitment to safety in three driving championships. Each of the past two years she placed second in USA Truck's driving championship and earlier this year was 12th among 42 drivers (41 men) in the Sleeper Class of the Arkansas Truck Driving Championship.
"Safety has always been something that's been at the center of my world," she said.
When she reflects on all her accomplishments these past six years "I have to pinch myself," she said.
"I think, man, is this really all happening to me."
There have been 17 female America's Road Team captains since the program's inception in 1986, including current captain Rhonda Hartman of Des Moines, Iowa (Old Dominion Freight Lines). The four female finalists this year are Coolidge, Nicolette Weaver of New Bloomfield, Pa. (FedEx Freight), Theldorine (Dee) Sova of Sacramento, Cal. (Prime Inc.) and Tina Peterson of Blaine, Minn. (FedEx Ground)
Coolidge already has Road Team experience. She was part of the inaugural Arkansas Road Team in 2015 and has since participated in dozens of Share the Road presentations that have allowed her to further her two favorite platforms – raising awareness of the industry to the next generation and opportunities for women.
"It's such a thrill for me to go to schools and different organizations throughout state of Arkansas and talk about road safety; I just love doing that," she said. "The thing sticks out to me most, that just fuels my fire, makes me feel like I'm making a difference out here, is when a young girl pulls me aside after class and says I want to do what you're doing. I'm not your typical female driver out here … and to have a young woman, a young girl, come to me and say I have inspired her to get into the trucking industry is something that makes me very proud."
Arkansas Trucking Association president Shannon Newton told Wright Media Coolidge has proven to be a "great ambassador" for safety and the trucking industry as a whole during her engagement with the state team.
"Her previous work history and background outside of transportation gave her a unique perspective and raw excitement about her occupation as professional truck driver," Newton said.
Inset photo: April Coolidge