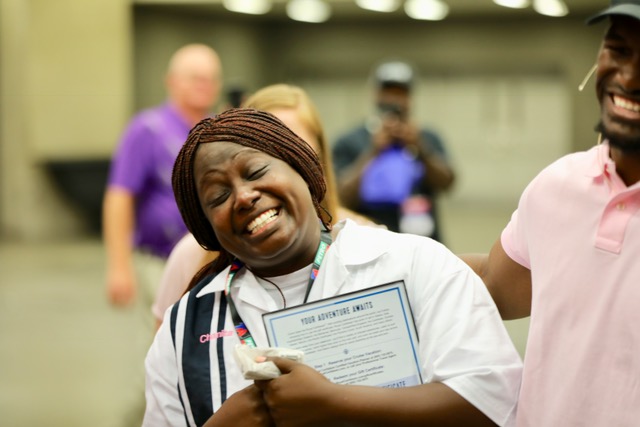 CRST-Malone rewards long-time driver's courage, dedication
Company leaders surprise veteran flat-bed driver, cancer survivor with custom truck wrap
By Al Muskewitz
Wright Media Editor-in-Chief
Chanita Ward is rather protective of her "Sheila Ann" so it was understandable her radar went off when her company, CRST-Malone, began making regular requests to leave her 2016 Freightliner Cascadia at the shop in Alabama through some prime delivery times during the summer.
First it was "to pick up parts." Then it was for new tires and rims they told her to think of as a "gift" for doing a great job. And then it was for, of all things, measurements on the tractor.
Finally, she was asked to bring the truck back and join company leaders at the Great American Truck Show, this time under the guise of putting a big picture of recruiting director Chris Gonzalez on the side panel.
"I asked them if they had the right truck," Ward said. "I started getting mad. I was losing time and money. I was on a dedicated run and I'm not making money. What is it you want?"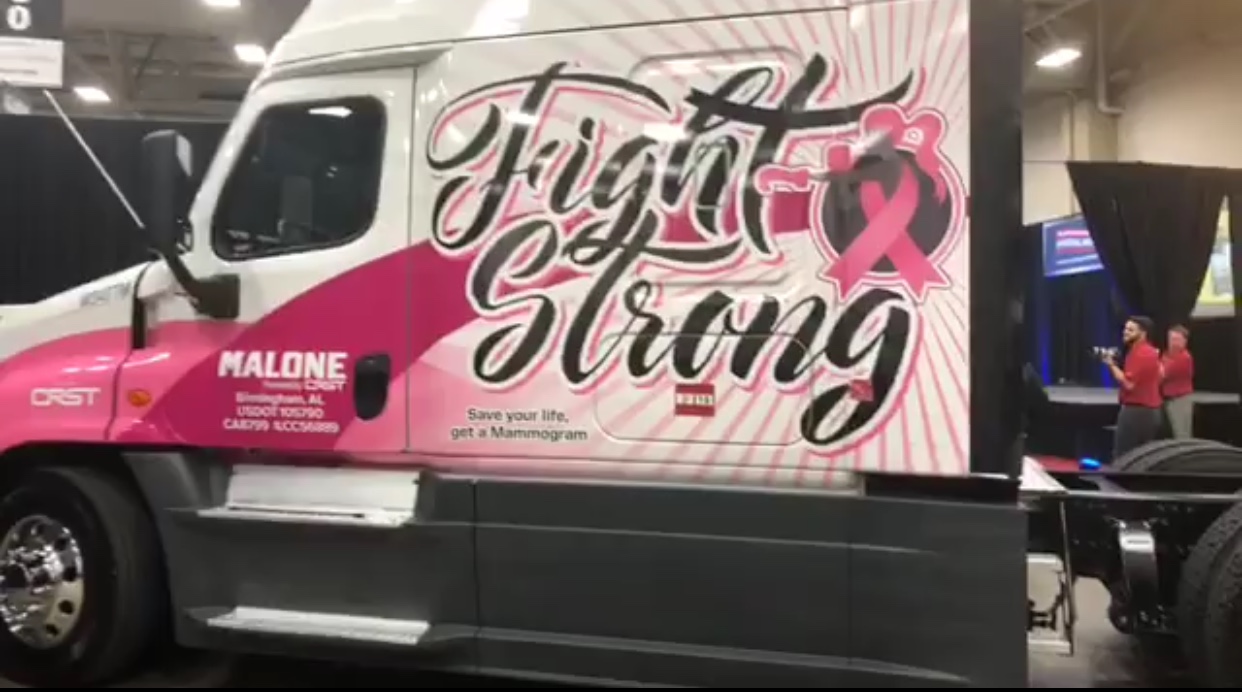 The mystery continued in Dallas when she was discouraged from going behind the curtain on the main stage when she really wanted to see the other trucks in the hall.
All soon would be revealed. After bragging on Ward's accomplishments as a driver for a few moments, company officials surprised her by returning the truck she had had for about eight months with a pink Breast Cancer Awareness-themed wrap that made it look "brand spanking new."
It was Malone's way of celebrating the Fort Smith, Arkansas driver's courage as a five-year breast cancer survivor and recognizing her unwavering dedication to the job as one of the few female flat-bed drivers among the 1,800 independent contractors in the company's fleet.
"It caught me by surprise," Ward said. "I knew they were doing something, I just didn't know exactly what. I was like, what are y'all doing, and nobody would tell me anything.
"When I saw it I had so many tears. I was crying so much I couldn't even think straight. I am completely blessed, 100 percent blessed. No. 1, I've got my life and every day I get to do what I actually love; for them to even wrap my truck and even think about me it was just a blessing."
Ward's story is inspirational.
A freak accident during one of her local deliveries in 2013 led to a series of tests that ultimately revealed the cancer. She had surgery and then underwent chemotherapy and radiation treatments that kept her off the road for a year, but she was determined to get back on the road in a longer haul situation.
Today her cancer is in remission and with the blessing of her family she's happily running flatbed freight throughout the Midwest and South.
One of the first goals Gonzalez had when he joined CRST was expanding the exposure and recognition for the operations beyond the company's best-known expedited division. When he heard Ward's story he knew the approach he wanted to take and pitched the idea to newly installed Malone president Chris Deschaine.
Once they both experienced Ward's optimism and positive attitude the project was a no-brainer.
"Her spirit, her positivity, everything, is what I want representing our company," said Gonzalez, the asset light recruiting director for CRST's STI, BESL and Malone divisions and a third-generation cancer survivor himself. "Forget the story of what you had to go through; you are what we're looking for. Every single thing against her is working there and she just literally surpasses every single piece of it."
Deschaine called Ward "a ray of sunshine with a positivity and attitude second to none."
The hardest part of the surprise was keeping it a secret to Ward and coming up with plausible reasons for keeping her away from her truck.
The only person who really knew what was going on outside of the company was Ward's son Terrell and he wasn't letting on one bit.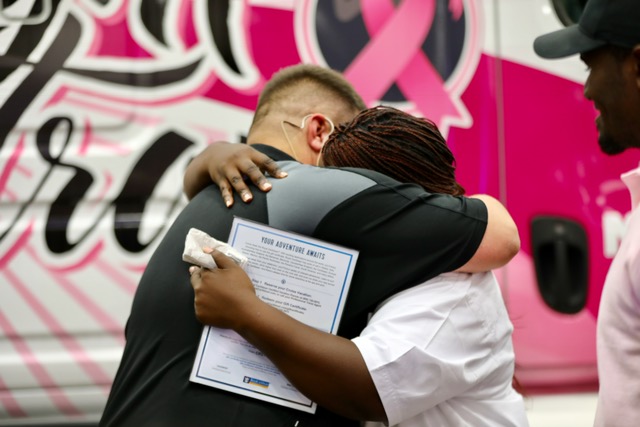 "I think they did it that way because I could probably get it out of everybody else," Ward said.
"I told her I just need you to take your faith in me," Gonzalez said "And she did. She put her faith in me I wasn't going to tear up her truck and everything was going to be okay."
It was better than okay. Skinwrapz, a Dallas-based company that has been a leader in vinyl vehicle coverings since 2001, took the job "about as personal as could be about her story," Gonzalez said.
The design features the traditional bright pink breast cancer awareness color scheme, a large breast cancer awareness ribbon, the words "Fight Strong" and a message for truckers and motorists who come upon the truck on the highway and rest stops: Save your life, get a mammogram.
Representatives of Methodist Dallas Medical Center, which conducted mammogram screenings at GATS, and the local Susan G. Komen chapter also spoke at the reveal. Donations for breast cancer research were accepted and CRST pledged to match the take from a minimum of $1,000.
Ward has been driving for Malone 12 years, undertaking the most demanding job in the industry. She has driven dry van, tanker and reefers before, but came to love flatbed for the very challenges it presents. She is one of only five women drivers in Malone's flatbed division.
She got the truck she's currently driving as part of Malone's lease-purchase program and named it "Sheila Ann" in honor of her mother, who passed away in 2017.
"I've always loved driving," Ward said. "I drive everywhere I go and one day I thought I might as well get paid for this, and I've been doing it ever since."
And she has no plans of giving it up any time soon.
"The president (Deschaine) made a joke the other day you can't go anywhere now," she said. "I wasn't going anywhere anyway. The 'Malone' is in the wrap, so I definitely can't go anywhere, but I wasn't anyway, because I love them."
Photos: CRST-Malone flatbed driver Chanita Ward (top) gets emotional after seeing the custom wrap company leaders did on her truck (top inset) to recognize her five years as a breast cancer survivor and longtime dedication to the company. Bottom inset: Ward embraces CRST-Malone recruiting director Chris Gonzalez after the big reveal.