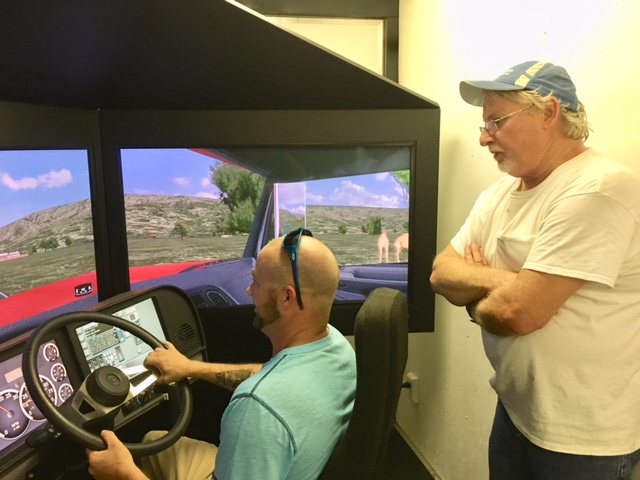 Getting A Real Feel For It
TLD simulator gives drivers real-time feel of what it's like in the big truck
By Al Muskewitz
Wright Media Editor-in-Chief
SPARTA, Tenn. – Daniel Keith was getting ready to pull his 18-wheeler out of the yard when a bobtail came zipping around from his right-side blind spot and cut right in front of him to get to the loading bay on the other side.
Phew, that was close, but Keith deftly avoided disaster and continued on his way.
Once out on the road he came upon a construction zone. Slowing down to survey his surroundings, he noticed a group of youths on an overpass intent on doing some mischief. He delayed just enough for the pile of rocks the youngsters tipped over the side fell harmlessly short of the truck and windshield.
The adventure in this playground wasn't over. A few miles on, a motorcyclist decided to play Evel Knievel and launch himself off a big ramp over the road right in front of him. That led to the police pulling out from Keith's left-side blind spot to give chase, followed by a pedestrian running down on the shoulder of the road and a stalled car right before a stop sign to turn onto a busy divided highway.
As if that weren't enough to test a trucker's focus, in a few seconds his visibility was obstructed by heavy fog, snow and ice.
Before you start thinking Keith has to be the unluckiest driver in the world, know he never left the safety of his air-conditioned room. The scenes that just played out before him were among of hundreds of scenarios Roger Whittenburg can put in front of drivers in the simulator he takes around the south to interest folks in the trucking industry and driving for Knoxville-based TLD Logistics.
When he's not overseeing one of the three training schools he conducts for TLD where the driving is "as real life as it can be," Whittenburg and wife Michelle take the 3-axle 40-foot Mobile Training Solutions trailer that houses the simulator and all its gear to basically wherever they can get a foot in the door.
On this day, they were visiting the White County Agricultural Fair for the first time and had a prime location – right outside the entrance to the midway. But this was no kiddie ride.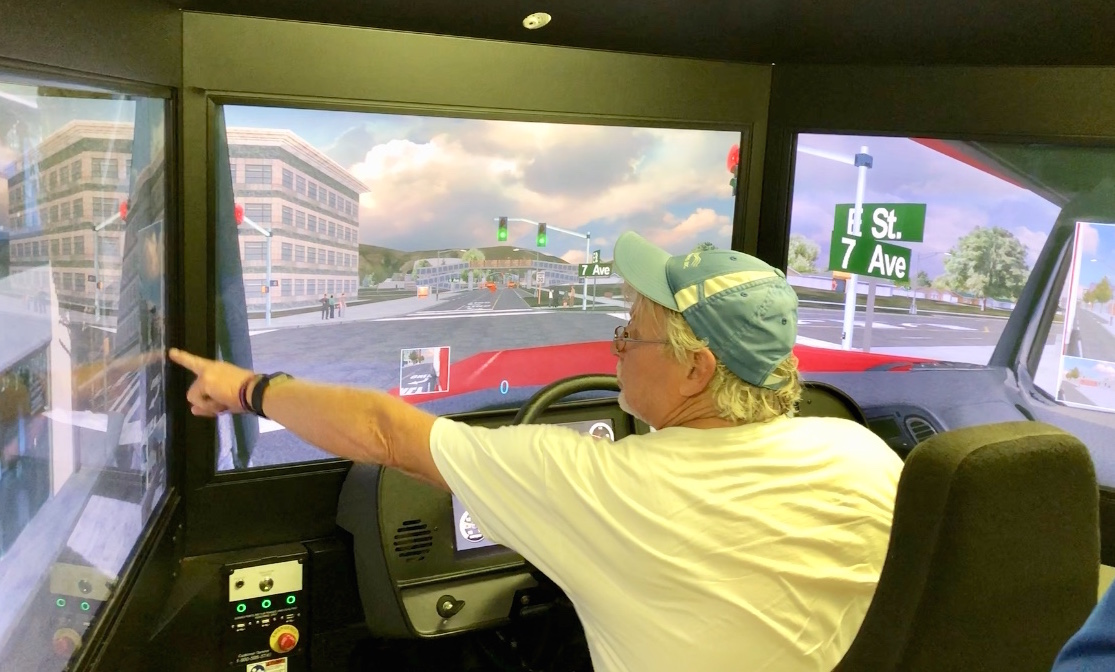 Just like it says on the side of the trailer, "the risks are simulated … the results are real." The scenarios that played out before Keith were part of a popular program called "Playground," but it was all business.
The simulator puts a driver in the cab of a big rig and everything he sees – from the instrument panel to the scenery – would be what he'd experience from behind the wheel. Powered by six computers and a 7,500-watt diesel generator, it can be programmed for an automatic transmission or up to 18 gears in a dry van or tanker. Sensors in the seats simulate the vibrations of the road. The city scenes and landscapes are just as you'd see them out the window.
"It's not a video game and we don't let it out that it is a video game," Whittenburg said. "You've got to be pretty serious before I let you in there shifting gears in it.
"That thing is a quarter-million dollars. You don't want somebody who wants to wreck it trying to be a cowboy."
It doesn't take him long to figure out who's serious and who thinks they're going for a carnival ride, and those in the latter category don't last long.
"Run of the mill people who've never been around big trucks, they're a hoot," he said. "One ol' boy, I knew he would not take it serious and we flipped him in 30 seconds. There's nothing we can't do to that thing."
Keith, a dry van driver who puts in 2,600 miles a week between Tennessee and South Carolina for a company contracted to TLD, was in the simulator for the first time and handled the obstacles like the seasoned pro he is. (In the interest of full disclosure, I held the steering wheel while Whittenburg was explaining the programs and kept it in the road for a short while, but would've failed the whole simulation miserably.)
"It was definitely more realistic than what I expected," Keith said. "I think it would be a great training tool. I wish I had done it sooner."
The company bought the simulator mainly for safety training and teaching new drivers how to shift, but soon discovered it could be a great recruiting tool. Now, Whittenburg, who drove 28 years and 3.5 million miles without incident, takes it to county fairs, jobs fairs, trucking rodeos – anywhere he can get a foot in the door – and rarely, if ever, does he come back empty handed. In some places the line to try it goes eight to 10 drivers deep at a time.
He told TLD president Jim Peters this year's five-week county fair tour, which ended with the White County event, was "the best year we've had" in terms of attracting drivers to the company.
He's hoping to get involved with some local schools, to bring an awareness of the industry as a career path to students who may not be interested in college upon high school graduation. And in an age when the industry faces challenges to attract drivers, appealing to a younger demographic is a plausible solution.
"We look at that as a pretty good tool for showing them something that might be of interest to them when they get out of high school when they're 18," Peters said. "If you decided college is not what you wanted to do, the opportunity to see the country, experience what it's like in different parts of the country and have a job making north of $50,000 while driving a truck is a pretty good opportunity."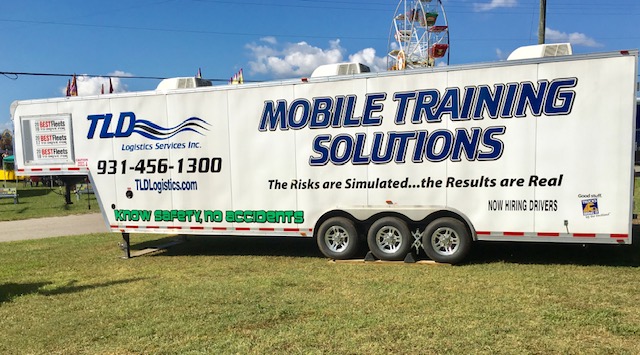 Top photo: Roger Whittenburg (R) watches driver Daniel Keith negotiate the various obstacles presented in the TLD driving simulator. Inset photo: Roger Whittenburg points out the view in the side mirror during a simulated exercise. Bottom photo: The TLD Mobile Training Solutions simulator trailer is ready to accept drivers at the White County Fair.