Let Them Truckers Roll
Alabama drivers convoy for Special Olympics for first time since 2005 Saturday
By Al Muskewitz
Wright Media Editor in Chief
When the first trucks from Alabama's version of the World's Largest Truck Convoy pull into the Petro Stopping Center in Gadsden Saturday morning, Terry Crumpton will be there waiting and he'll be "very elated."
But he probably won't be near as happy as his son.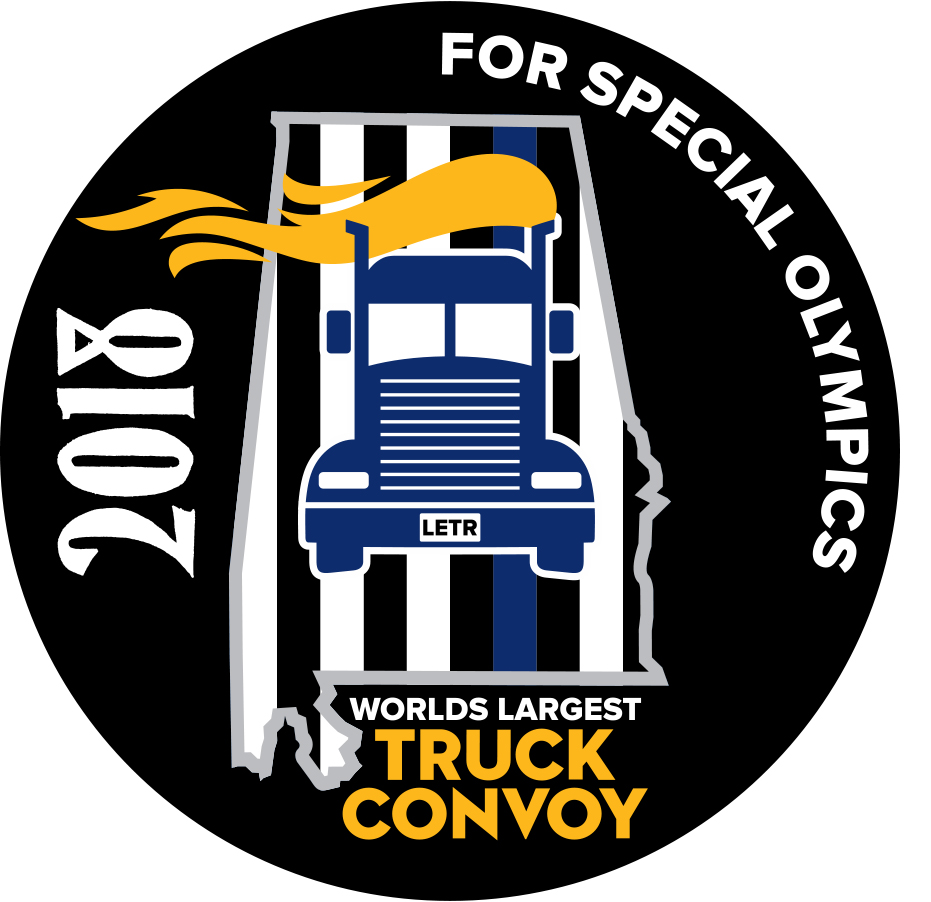 This weekend, Alabama truckers will join the national law enforcement fundraiser for Special Olympics for just the second time and first since 2005. It's an initiative especially dear to Crumpton, one rooted in his son Kevin Mapson Jr.'s love for everything truck.
"He's been in love with trucks ever since he was about 3 years old; that's all he wanted to do was follow trucks," said Crumpton, a patrol officer in the Gardendale Police Dept. and the event's post convoy commander. "We've actually been following trucks for about the last six or seven years.
"It's going to be neat. On a scale from 1 to 10, with 10 being the greatest and 1 being the least, I'd say it's about a 9."
Why not a 10?
"Well, we've got to leave some room for improvement," he said.
And organizers anticipate rapid growth.
Crumpton has been working toward Saturday for about four years, since becoming involved in the Alabama Law Enforcement Torch Run for Special Olympics, a fundraiser that supports more than 15,000 Special Olympics athletes in the state, but it was just a matter of getting the logistics right. The recent addition of media consultant Phil Sims to the team provided a big boost to the initiative and they put this year's program together in about 60 days.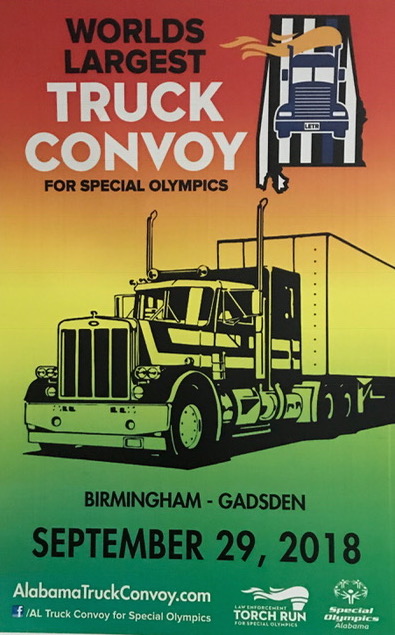 As of mid-week more than two dozen drivers have committed to the Alabama convoy, including Fenn Church, president of Church Transportation & Logistics and chairman of the board of the Alabama Trucking Association. Organizers hope to draw more on Saturday.
UPDATE: Fifty-three trucks took part in the convoy and the campaign raised more than $15,000 for the 15,000 Special Olympics athletes in Alabama. Montgomery Transport won the bid for Lead Truck. And, yes, Kevin Mapson did get to ride in a truck – twice, Church Transportation and Weil Wrecker.
"We're learning as we go," said convoy director Debby Sumrall of the Shelby County Sheriff Dept. "Everything we're doing is with the mindset we're driving for next year and the year after. It's just a positive, fun day for two industries to come together and try and make it a big event."
The convoy will feature trucks over 10,000 pounds GVW of all class and style – bobtails, tractor and trailers, duelies. Some trucks will run empty, while others like FedEx and UPS will be carrying loads and continuing to their appointed destinations after participating in the run.
Drivers wishing to join can register up to the time the convoy hits the road Saturday morning. All they need is a CDL, proof of insurance and a $100 registration fee. Bidding also will take place for lead truck.
"This is a fundraiser I've been asked about on numerous occasions … so you know there's an interested population out there," Sumrall said. "I'm really proud of the people who worked really hard – and fast – in these last 60 days. We kind of took a big goal and said OK, lets do it, lets quit putting it off. I'm really proud we're finally trying it and I think it's going to become one of our annual fundraisers."
Special Olympics athletes will get to ride with drivers where allowed. As a truck enthusiast, Kevin is hoping to catch one of the rides. He told his dad "I feel good" about the convoy being put together. Asked if he wanted to sit in the lead truck if he got a chance to ride, he said, "I just want to sit in a truck with straight pipes."
Many states ran their convoys during National Truck Driver Appreciation Week, but truckers from Alabama, Minnesota, Missouri, South Carolina and South Dakota take to the road this weekend. Special Olympics has been tracking revenue and truck participation in the convoy since 2005 and since that date it has raised more than $9 million and more than 20,000 trucks have participated.
The size and routes of the convoys vary by state. Some routes are loops with trucks starting and returning to the same venue, some are point-to-point runs. Route length and volume of trucks vary. The Wisconsin convoy two weeks ago drew 175 trucks and raised more than $100,000. The Nova Scotia convoy drew some 200 trucks.
The staging area and starting point for the Alabama convoy will be near the entrance to Guiding Light Church on John Rogers Drive in Birmingham and will finish at the Petro in Gadsden, the busiest Petro station in the state.
The convoy will traverse interstates 459 and 59 before turning onto U.S. 77 in Gadsden. It is expected to run at 55-60 mph. Exit and entrance ramp along the route will be blocked to avoid interference, but existing vehicle traffic will not be encumbered.
"Once it starts, it doesn't slow down," Sims said.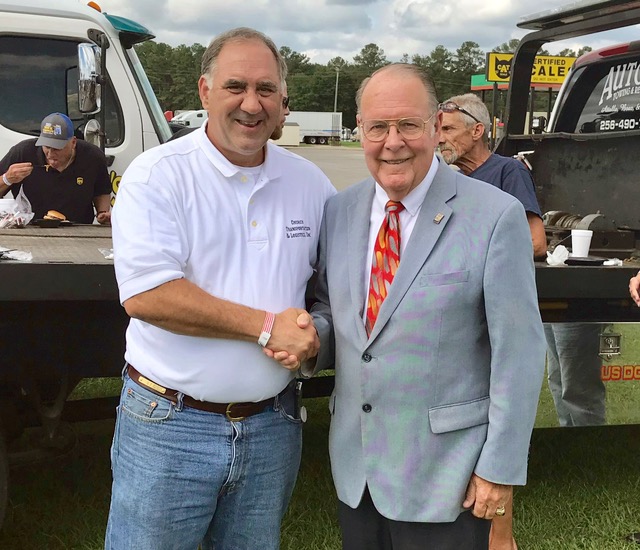 Alabama Trucking Association board chairman Fenn Church (L) is greeted by Dr. Robert Bushong, executive director of Special Olympics Alabama, at the end of the convoy.