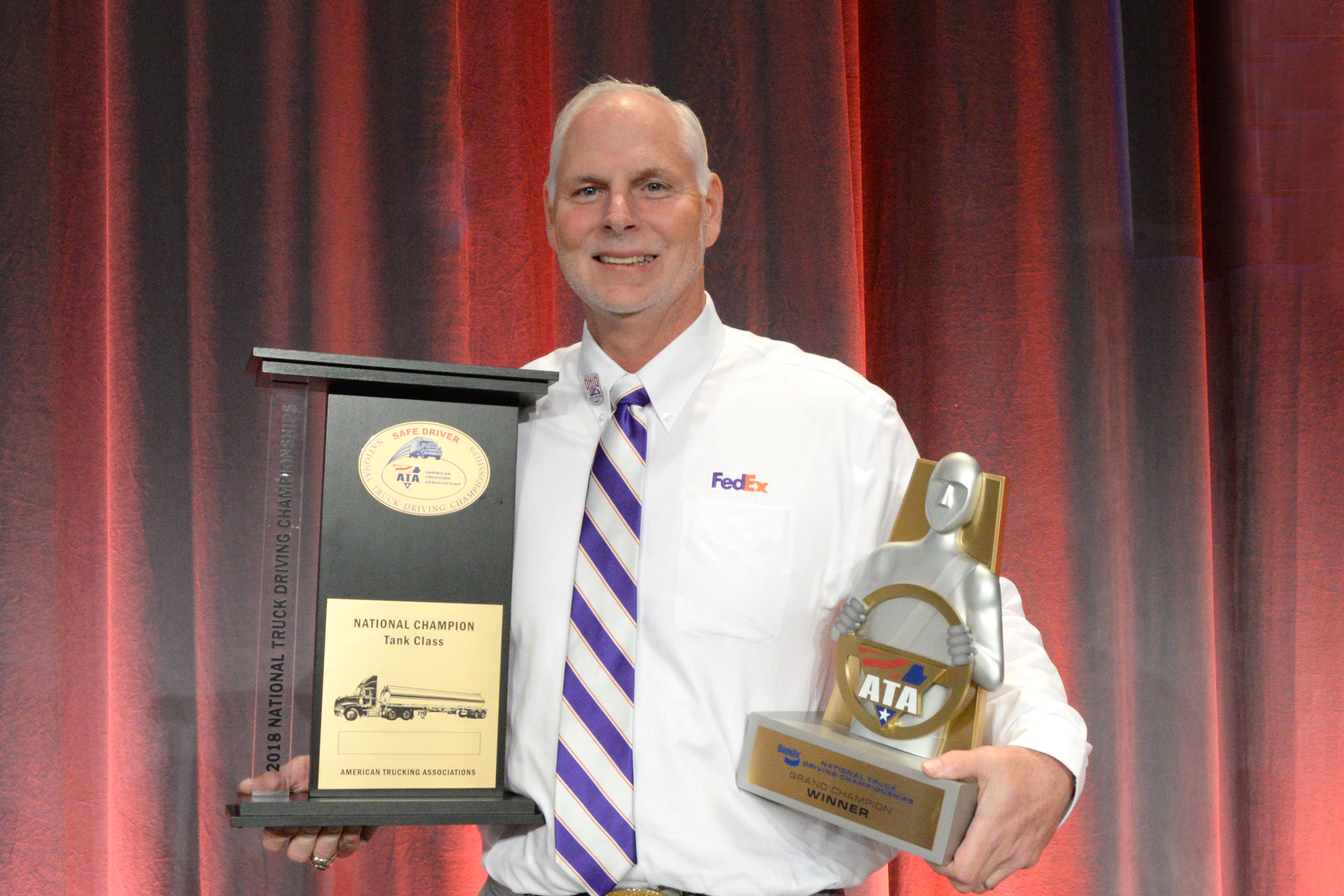 Woodrome Right At Home
Seeing the light helps Ohio driver become third NTDC Grand Champion since 2010 to win 'Super Bowl of Safety' in his home state
By Al Muskewitz
Wright Media Editor-in-Chief
There was a little more pride that went into winning this year's National Truck Driving Championship for the driver who hoisted the big prize. Call it "hometown" pride.
As a former high school and small college football player, Scott Woodrome knows all about how the home-field advantage can push a competitor over the top.
The 55-year-old P&D driver for FedEx Freight rode that emotion as well as his skill and faith to become Grand Champion at last month's NTDC in Columbus, Ohio, just a short drive from his Middletown home.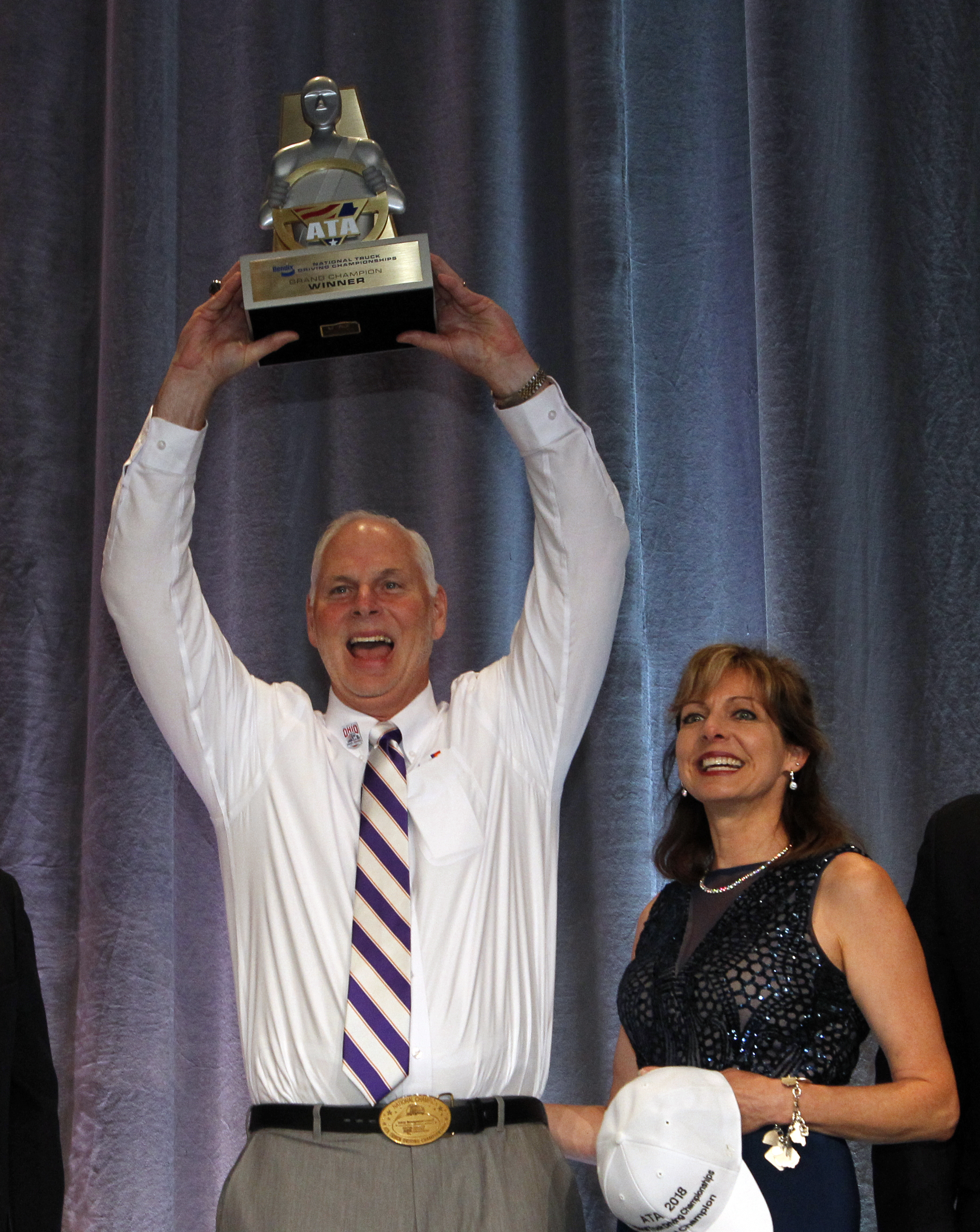 Woodrome is the second Grand Champion to win in his home state in the last three years and the second Ohioan to win it on home asphalt in the last 10 years. Indiana Wal-Mart driver Charles Mike White won in Indianapolis in 2016. Ohio Con-way Freight driver Carl Kristes won in Columbus in 2010.
"I always remember (NFL Hall of Famer) Ray Lewis getting everybody together and all fired up saying we work hard, we do what we do and then he'd say this is my house," Woodrome said. "This is my house, you're coming to my turf and I'm going to do my best to do what I've got to do to be successful.
"It was exciting to be able to do it here. When you're on your own home turf there's a little bit of pride that says you guys better bring your best because this is my house."
A longtime competitor in truck driving championships with more than 1.8 million lifetime safe driving miles, Woodrome also took home the Tank Truck class national title in Columbus. He has been in the trucking industry for 25 years, 12 with Falcon Transportation and the last 13 with FedEx Freight.
He has won a state class championship all 13 years. He never saw the numbers, but was told in 2015 he was "really close" to winning the big prize after taking top honors in Flatbed. There was no doubt this time.
"When I first got into it that was the ultimate goal," Woodrome said. "It's a journey and a goal and a mind you set out for and once you accomplish it, it's like standing on top of a mountain with your arms raised up high. You can just see everything around you.
"It's just a great feeling of satisfaction and accomplishment that you have reached your goal. It's just so pleasing, so uplifting. It's like after all the hard work and time and energy you put into it, it finally came to be."
There's always something special that carries a winner to the title. When Alabama driver Alphonso Lewis won in it all 2007 he recalled a little voice reminding him not to set the brake at the end of his run through the course (as he'd normally do on the job) per judges instructions. By catching himself in time, it saved his title.
In Woodrome's case, you could say he saw the light.
During the first round the obstacle called for him to back up to a gate. Normally he gets it close but always wants a little bit more and inches back farther. This time, he decided not to give it the little extra and was stopped three inches from the target.
In the finals, with family and friends in the stands watching, he had go over a bulls eye on the rear bumper and had to guess where the rear IC bumper was over the problem.
"I was waiting and waiting, trying to go off the mark and I could see a little bit of the problem that was covered up because of the shadow of the truck," he explained. "Then all of a sudden the problem got brighter; it was being revealed by the lights from the convention center shining down on it. I was able to catch that little bit of light and was like, 'Oh my goodness, I've got to stop.' They dropped the plumb bob and it landed on it; that was just so wonderful. It was like somebody gave me a little sign there watching out for me."
Oregon FedEx driver Ronald Zieser was named 2018 Rookie of the Year after a strong showing in the 3-Axle class. There were 28 rookies in this year's nationals.
FedEx produced seven of the nine class national champions, five from FedEx Freight. The company had a record 185 drivers among the nearly 450 who competed in this year's event. It has produced five National Grand Champions, 57 national champions and eight national rookie-of-the-years over the last 16 years.
They give their qualifiers time to practice and take their "team" to Indianapolis for the 4Cs competition in which they crown a company-wide Grand Champion. Woodrome has won his class in that competition before, but not yet an overall title.
"It's a culture," Woodrome said. "They have a sign on the gates that 'Safety is above all,' and they really do push it. The ultimate goal is when everybody's safe everybody wins."
In addition to the national class awards, Neil Nogues of YRC Freight was recognized with the Neill Darmstadter Professional Excellence award. Michael Flippin and Eric Courville of FedEx Freight and Tony Spero of ABF Freight achieved perfect scores on the written exam phase of the championships and received the Highest Written Exam Award. Michael Whitehead of FedEx Freight took home the Vehicle Condition Award for his performance during the pre-trip inspections.
This year's Sam Gillette Volunteer of the Year Award was presented to Jerry Waddell of Cargo Transporters.
"This process began with thousands of drivers competing at the state level, but only one driver can emerge as overall grand champion," American Trucking Associations president and CEO Chris Spear said. "It's a testament to Scott's commitment to safety and his craft that he was able to take home top honors this year."
Next year's NTDC will be held in Pittsburgh, Aug. 14-17.
"It's just a great group of professional truck drivers who truly care about safety," Woodrome said.
Inset photo: Ohio driver Scott Woodrome raises the NTDC Grand Champion trophy above his head as wife Lorraine looks on. (Photos courtesy ATA)