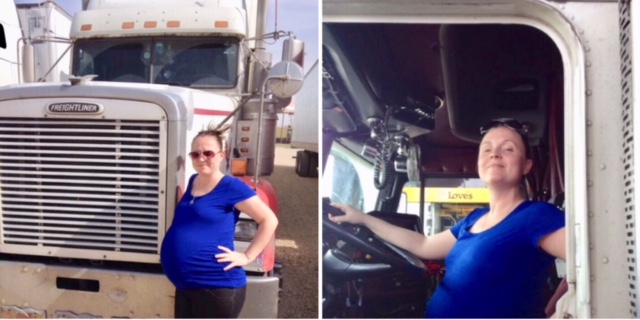 Driving A Truck Not Just For Men
One woman's experience making her way in a male-dominated industry
By Kari Blackmon
Wright Media Correspondent
At 23 years old, Pamela Bradley was tired of waiting tables and was ready for a drastic change.
She wanted to leave her home in Raleigh, N.C., so she could have a purpose and find adventure. She desired a job that paid a decent wage and allowed her to travel so she could see the world.
After much thought, it dawned on her … truck driving.
The setup seemed perfect. She could wait tables during the week then train in Atlanta for her CDL on the weekends. She got her license in 2004 and was ready to drive. She's been on the road until just recently, joining the small, but growing ranks of women in trucking.
A trainer had to accompany her for the first eight weeks, and since there aren't many women truck drivers her trainer was a male.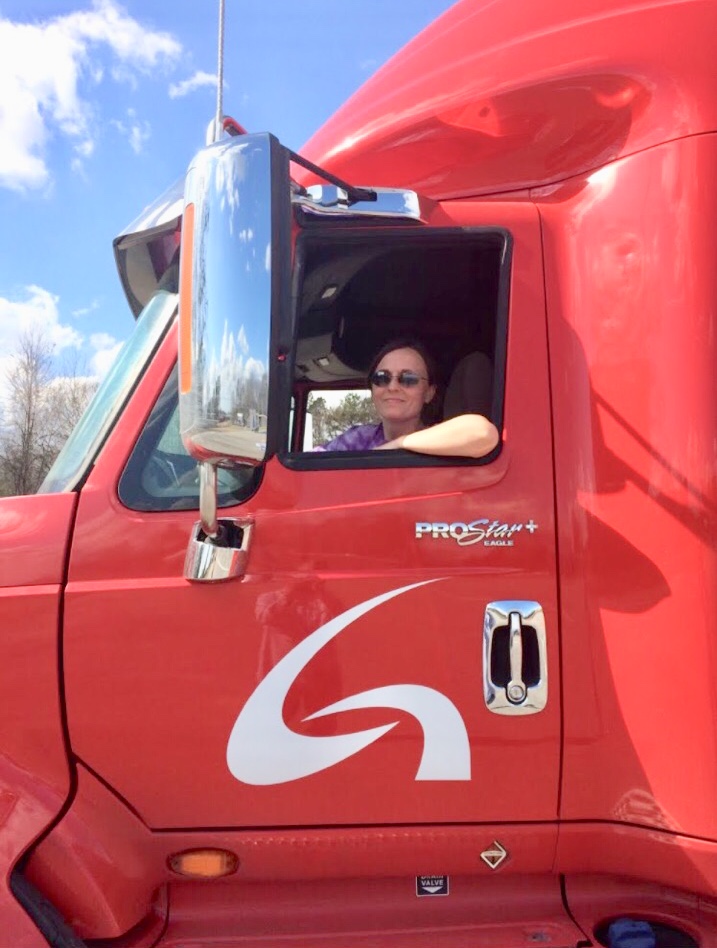 "I was fresh out of school and scared to death," she said. "It's a man's world out there, so I had to live up to a higher expectation."
According to the recent study conducted by the National Transportation Institute for the Women In Trucking Association, women made up almost 8 percent of the truck driver workforce at the end of 2017, an increase from 7.1 percent at the start of the year. Women in management positions rose by the same margin to 23.8 percent during the same time period.
Central Refrigerated was the first company Bradley worked for, hauling mostly lettuce and fruits. Her trainer had a lease-to-own truck; she was making 25 cents a mile.
After the completion of those eight weeks with her trainer, she decided to stay with him and run as a team. Since teams don't have to rest when that 14-hour clock stops they were able to keep on rolling to make more money.
After sharing miles and miles on the road together they became an item, and after three years with Central Refrigerated to pay off the truck, they married.
"It just made sense at the time," she said. "Being so short and so intimidated by other men drivers, he did most of the backing."
Searching for a better paycheck, they left CR for Forward Air earning $1 per mile hauling important mail or freight. With no forced dispatch they could choose their loads, but after three years they were released for constantly turning down loads.
They moved on to Paramount Freight, which was owned by R&L Carriers. It proved to have better miles for them because it was drop-and-hook loads instead of sit-and-wait loads. At the time R&L allowed the owner/operator division to deliver straight to customers, which made for some interesting trips.
"It was whatever whenever," Pamela said. "One time we had to deliver to a farmer out in the middle of nowhere. I thought we were lost for the longest."
Straight Delivery was stopped soon thereafter, and they were put on a dedicated run. It was a 70-hour work week and a 34-hour rest weekend. Since most employees were on dedicated runs, the couple made friends with other drivers. It was during that time she discovered a lot of the young men drivers think highly of female truck drivers.
"They thought it was pretty dang cool I could drive a truck," she said. "That helped me gain confidence in myself."
As Pamela made the same stops, she noticed the men who questioned her ability as a woman truck driver were an older generation accustomed to women staying at home or working traditional female jobs such as teachers and nurses. The younger generation of men and women in the work force has changed that mindset abundantly, especially in truck driving.
She felt she had the same opportunity as men, but the pressures that drive women out of the industry were starting to build.
Many women talk about the difficulties with the backing maneuvers and physical demands of the job. Socializing is also another challenge. With more than 90 percent of drivers being male, women must communicate with shippers, receivers and other drivers daily; some of these men may treat women as an equal, others may not. And then there is the family side.
Pamela began thinking of settling down and starting a family. She and her husband eventually divorced, but she remarried another truck driver, Keith Bradley, and they continued as a team for R&L on a dedicated run. This happy time in her life helped her rise to the occasion of being a successful woman truck driver. She felt the pieces of life were starting to come together, and for once she was standing on her own two feet.
By now, she was comfortable backing the truck by herself and complete tasks she couldn't do very well before. She gained confidence in her abilities as a woman working a traditional man's job, but the physical aspects of her job remained tough.
"You don't want to ask for help because you look weak, but I didn't have the muscles the men had, so I always had to work harder," she said. "I hated fitting that stereotype 'Here comes another woman truck driver.' I wanted to belong."
Bradley met so many challenges as a female truck driver, but never gave up. At eight months pregnant she let go of the road and settled down in Alabama to have a family.
But she has plans of getting back on the road, eventually.
"I love truck driving," she said. "I was paid good money to see the world. I went to so many places and I got to try lots of new things. It was a mix of work and adventure all the time. One day I will return to the road, but for now we're raising our little family."
Top photos: Pamela Bradley drove a truck for 14 years before stepping away to start a family, but she plans on getting back on the road again.