By Al Muskewitz

When Craig Zeller set off to start his own trucking company shortly after the turn of the century, the only goal he had in mind was getting that first load to their first customer. It was an adventure.

His driver started out for California driving with one company and headed back with the load of produce working for him. Once the truck got to the customer, the delivery chute was blocked, causing a delay and the load was toast. Finally, the driver abandoned the truck.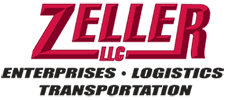 Suffice to say, that first run did not go well, but Zeller remained committed to his vision and persevered.

Fast forward to this past June. Zeller Transportation celebrated its 20th anniversary in business, growing from those humbling beginnings into one of the most stable and recognized small refrigerated carriers in the country.

The anniversary celebration was low-key, much like the founder. The management team cooked lunches for their drivers and staff over a couple days and gave out company-wide cash bonuses and swag. It recognized the past but all with a keen eye to the future "to make sure we get to our next 20-year birthday."

Zeller said he didn't start talking about 20 years until the end of May. "I wouldn't even say 20," he said during a break at the inaugural HireMaster Client Success Symposium. "I didn't want to count my chickens before they hatched."
The company opened for business on June 3, 2002, with three trucks and four trailers. At the time, Zeller's long-term vision was for a company of about 20 trucks, a benchmark it exceeded by Year 5.

The growth has been steady. Between the first and second year, it had six trucks. There were 12 on the road the next year and 18 the year after that. By Year 5, the carrier was at 24 trucks and building an 18,000-square-foot building on its 13-acre Hartford, Wis., campus that currently serves as its base of operations.

From there, Zeller said, "things got interesting." They rode out the tough times of 2007-08 and their perseverance was rewarded. With a foundation strongly established, the carrier more than doubled its fleet and now has 64 tractors and more than 100 dry van, reefer, flatbed and conestoga trailers. It runs OTR primarily from Wisconsin to the East Coast to I-25, a straight run from North Dakota through Denver on its way to Texas, as well as locally.

"I seriously never thought we'd be beyond 20 trucks," Zeller said. "That was really my thought process in the early days. Now, my sights are to be in the high double-digits or maybe even the triple-digits."

There is no particular timeline for those goals. The bigger focus these days is getting their trucks and trailers on a full trade cycle.

And, of course, they're always looking for drivers.

While Zeller doesn't have any drivers who have been with the company all 20 years, it does have two who have been there for 19½ – Randy Filter and Glenn Durant. That commitment and loyalty is typical of the drivers who come on board. The carrier's retention rate is three times better than the industry average, and for good reason.

A typical Zeller OTR driver gets about 3,000 miles a week, but instead of a miles guarantee, the carrier offers an hourly guarantee. A driver, for example, who leaves on Sunday at noon and returns Friday at noon is paid for all the time they're gone. More than a dozen Zeller drivers earned in six figures last year. Zeller even goes on the road when needed; he logged 38,000 miles last year.

"We don't have a large culture, but we have lots of guys with seniority," Zeller said. "We work hard, we have high expectations, I feel we pay very well and look to do what we commit to do. So if you bring those two things to the table, then we will back it up with good pay and keeping our commitment as far as your home time and we'll do whatever has to be done to meet that."

It's a plan that has served them well for 20 years. As for the next 20, Zeller says, it will remain a steady, one step at a time process.

"We should probably accomplish 25 first and then 30," he said. "Just really trying to establish some good footprints on the ground and keep on investing in the company."

And undoubtedly he won't start bringing those milestone years into the conversation until they're right upon him.