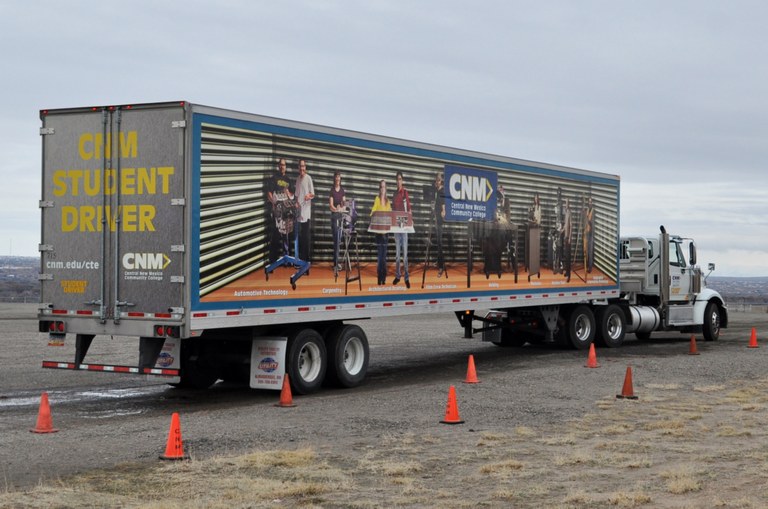 N.M. college launches fast-track driver training
By Al Muskewitz
Wright Media Editor-in-Chief
Want to get on the road, but don't have the time or inclination to wait? A community college in New Mexico is about to launch a truck driving training program designed to get qualified drivers out on the road faster that in some sense is a bit ahead of its time.
Central New Mexico Community College in Albuquerque has been offering truck driver training as part of its college credit curriculum for years, but starting July 9 it will launch through its CMN Ingenuity workforce arm five-week fast-track training for CDL A, B, C and Passenger certifications.
The school will continue the training in the traditional semester setting, but this accelerated program is designed to get beginner drivers or veterans needing more training into the work force in two-thirds the time -- without becoming a traditional college student – to answer the industry's growing need for qualified drivers.
Both programs meet state and federal CDL requirements, and actually meets the training time standards that will be introduced in 2020.
"Truck drivers are in high demand in our state and across the country, and this accelerated program provides quick access to high quality jobs," CNM Ingenuity executive director Kyle Lee said. "We're responding to our economy's workforce needs while providing people with a new pathway to good jobs."
The first class for ABQ CDL begins July 9, but the program has rolling enrollment, meaning proceeding groups start approximately every other week without waiting for the previous five-week class to end. The first fast-track cohort has six students, but classes can accommodate as many as 12 at a time and produce a potential of 120-180 new drivers annually, double the per-semester system.
The program, modeled off a similar program in southern Colorado, offers students two weeks of classroom instruction and three weeks of behind-the-wheel training based on the New Mexico CDL Manual and FMCSA requirements, taught by former drivers and certified examiners. In January, the classroom element will be offered online, reducing on-site training to three weeks.
"What we've found is both industrial partners and commercial partners who have commercial fleets and need to grow their commercial fleets or folks who are in a job transition and want to go to work right now, the value of time to go from 15 weeks to five weeks … is a big deal and they've asked for that," Lee said. "For those who need truckers right now – and we're producing them right now – waiting 15-16 weeks is unreasonable. They need them trained and on the road."
Hiremaster currently lists 979 trucking jobs available in New Mexico.
While the ABQ CDL program does not place drivers into jobs, upon completion of the program drivers will be qualified to apply with any carrier in the country. CNM has won numerous awards in connect services, a program that helps people get connected to work that's available.
"It is really amazing for five weeks you can walk away with a starting job in the $30-35,000 (range), but depending on who you get picked up with and what you're hauling you can really drive a very good salary into $50-60,000 a year," Lee said. "There are very few work-force transformations that allow you to get training like this and then go get that kind of work."
For more information on the CNM program, connect through www.ABQCDL.org or 505-224-4CDL (4235).