About Us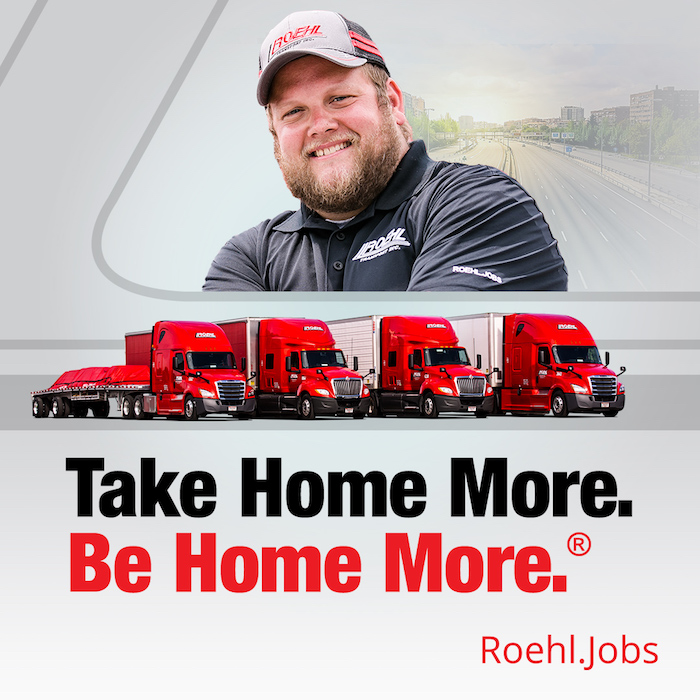 We're open and hiring during COVID-19.
As professional drivers carry our country through these uncertain times, it's more important than ever that we support our driving teammates with the resources and amenities they need. Roehl's locations across the country are open for our driving teammates, and we're hiring essential workers who want to join TeamRoehl.
"New Pay Increases for 2021 – Company Drivers earn thousands of dollars to your annual earnings with Roehl PLUS Home Daily Runs"
Roehl Transport truck drivers will earn additional pay just in time for the holidays with a recently announced Surge Bonus!
Driving teammates in our Flatbed, Refrigerated, Curtainside, and Van divisions will earn extra cents per mile for dispatched miles driven between October 10, 2021 and January 31, 2022.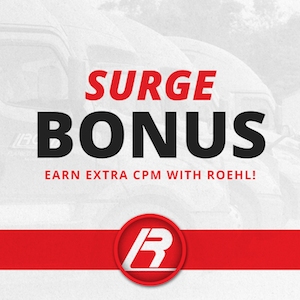 Roehl has opportunities for your personal career development, and as an experienced driving professional, you can participate in the Your Choice Pay Plan, a specialized pay plan that allows you to earn a pay increase each quarter, up to our top rate. Plus, with our practical miles pay, you get paid for more of the miles you actually drive (5-8% more).
Roehl has the industry's leading home time options that range from flexible national fleets (home three days after being out eleven to fourteen) to home weekly regional and dedicated fleets. Our HOMEtime PLUS fleets offer consistent, dependable schedules with up to 26 weeks off a year. You can choose a fleet and home time schedule that works for you.
Our equipment is very new (the average age of our trucks is 1.75 years and we have both manual shift & automatics), and we have an excellent benefits package including health, dental, life and vision insurances, a 401k plan, profit sharing and passenger policies. We have major terminals in Chicago, Atlanta, Phoenix, Dallas & Wisconsin and multiple other drop yards across the country.
As an experienced driver joining Roehl, you'll appreciate our commitment to safety and driver success - empowering you to do what you do best - excel at your truck driving job. Need a CDL? We have paid, on-the-job CDL training. Talk to a driver employment specialist to find the fleet that meets your needs. You can also search for truck driving jobs and learn more at https://www.roehl.jobs.
Current Jobs
(11284 jobs and locations)
Roehl Transport
hiring in Skokie IL
In this home daily truck driving job in our Dairyland Fleet, you'll haul temperature-controlled freight across Wisconsin and into neighboring states AND, like a local truck driving job, you will be home every day! You'll get the Your Choice Pay Plans™ that give you options like earning a quarterly bonus or a pay increase each quarter up to our top rate. You will ...
Roehl Transport
hiring in Chester SC
Van Eastern Regional Fleet Truck Driver Job with Gold Zone Pay As a Van Eastern Regional Fleet driver, you'll haul largely no-touch freight between Atlanta and the Northeast. You will get home on the weekends - typically for at least a 34-hour reset. You'll likely get a choice of when to leave the house to return to work - either get home on a Friday and leave on a ...
Roehl Transport
hiring in Colby WI
Get a professional, dedicated truck driver job with great benefits when you join Roehl's Kraft Refrigerated Fleet. You'll drive between 5.5-6 days a week. You'll have at least 34 hours of home time every week. You'll be driving regular, predictable routes. Your pick-ups and deliveries will be production plant-to-plant or plant-to-distribution center (about 90% of the...
Roehl Transport
hiring in Eastpointe MI
As a Van Midwest Regional Fleet driver, you'll haul largely no-touch freight to many of the same locations in the central part of the country. You will get home weekly - typically for at least a 34-hour reset. We strive to get you home with a load so you'll know well in advance where you're going when you head back out. You'll get our popular Your Choice Pay Plan™ so ...
Roehl Transport
hiring in Fort Worth TX
In our OTR Refrigerated Fleet driving job, you'll haul cheese and other frozen or temperature controlled products in state-of-the-art trailers across 48 states and Canada.2020 Peak Season Bonus!Get $0.02 more per mile for dispatched miles driven between October 18, 2020 and January 31, 2021 with Roehl's 2020 Peak Season Bonus!As you see the nation, you'll also see many...