About Us
Join U.S. Xpress Today and Earn Extra Cash Now!
What makes U.S. Xpress different? Our difference is our people.
We provide our team with a pleasant and safe work environment where all employees are challenged both personally and professionally. Whether expanding your skillset, earning generous bonuses, or taking part in our Full Ride college program, U.S. Xpress is here to reward you for your hard work.
Founded as a family business, our company strives to stay true to family values as we grow. We're proud to be one of the largest asset-based truckload carriers by revenue and we want to share all our success with you. Online orientation is now available; get ready for the job from the comfort of your own home.
Dedicated drivers get great home time. They also can earn up to $12,000 in bonuses within their first year of driving with U.S. Xpress. Lease and owner-operators are also welcome on this fleet.
Owner-operators earn great pay with always consistent miles. Lease purchase is easy here: no credit check and no down payment.
Military members get an advanced rate of pay. The Post 9/11 GI Bill Apprenticeship Program is available for veterans here. The U.S. Xpress Military Program offers former members of the Armed Services an opportunity to jump-start their new career in one of the most secure industries in the economy: transportation. At U.S. Xpress, there is a high value on the experience, commitment, and work ethic of veterans; this is why we're on a mission to employ more veterans than ever before in positions throughout our company.
Sign-on bonuses may be available for any fleet, find your location and desired position to learn more.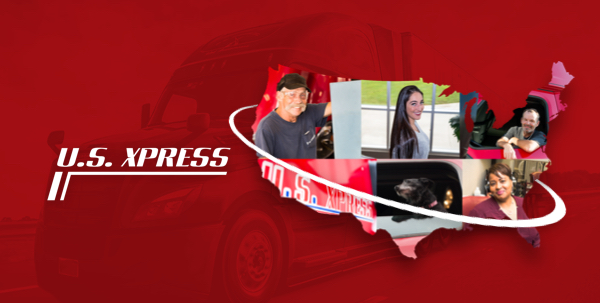 *Details may vary based on location and are subject to change without notice contact a recruiter for details.
Current Jobs
(7872 jobs and locations)
US Xpress
hiring in Nashville TN
CDL-A Teams: TOP TEAM PAY IN THE NATION & $30,000 SIGN ON BONUS/SPLIT!Your team can earn up to $200,000 – or more!Don't Wait, Call Now! 956-450-6849Team Drivers: HUGE $30,000 Sign-On Bonus/split with TONS of miles! Your team can earn up to $200,000 – or much more! Only 3 Months Experience Required! Doubles Endorsement? Make even more $$$! Drive the newest trucks! ...
US Xpress
hiring in Ledyard CT
CDL-A Dedicated Truck Driver: Earn An Extra $6,000 Your First Year - $1,000 Paid Every Month!Great Home Time!Don't Wait, Call Now! 954-519-7341LIMITED TIME! U.S. Xpress is offering NEW dedicated opportunity with an EXTRA $6,000 for experienced drivers -- $1,000 PAID EVERY MONTH! Get HOME WEEKLY -- and TOP EARNERS make up to $120,000/yr with paid vacation and great ...
US Xpress
hiring in Greenville OH, Greenville OH, Greenville OH and 0 other areas
CDL-A Dedicated Truck Drivers: Home Weekly - with BONUSES!Up to $2,500 TRANSITION BONUS!Don't Wait, Call Now! 956-476-3182Top-Paying CDL A Job Opportunities: Choose U.S. Xpress and work with the nation's fifth-largest asset-based carrier! Home Weekly Earn up to $70,000—or even more—every year Fast Hiring DEDICATED: Opportunities may be available with SIGN-ON BONUSES ...
US Xpress
hiring in Logansport IN
Recent CDL A Grads - Dedicated Job with Experienced Pay!Home DailyDon't Wait, Call Now! 956-476-2835Students/CDL Grads: U.S. Xpress has an opportunity for you to earn great pay on a HOME DAILY route! Plus, you'll get paid to train on your new route, and we offer tuition reimbursement up to $7,000! But don't wait, high-paying dedicated opportunities like these don't ...
US Xpress
hiring in Laredo TX
Lease-to-Own: No Money Down, No Credit Check, Walkaway LeaseLEASE PURCHASE & OWNER OPERATOR OPPORTUNITIESDon't Wait, Call Now! 956-275-2908NEW WORRY-FREE WALKAWAY LEASE! - No credit check. No money down. - Ownership has never been easier or quicker. - Being a boss starts today. - Earn up to $120,000/yr + START YOUR OWN BUSINESS with 6 MONTHS OF EXPERIENCE OWNER ...