Ten-year FedEx Freight veteran credits hard work for bringing overall title
By Al Muskewitz
Wright Media Editor-in-Chief
PELHAM, Ala. – David Hawk has driven all kinds of trucks during his 30-year career behind the wheel, but Friday he took a 3-axle truck straight to the winner's circle.
The recently turned 53-year-old FedEx Freight driver from Gardendale brought home the big prize as overall champion at the Alabama Trucking Association's Truck Driving Championship at the Pelham Civic Complex.
Hawk has been driving for FedEx Freight for 10 years, but only been competing in the TDC for five. He won the straight truck division each of the previous two years, finishing fifth at the nationals two years ago and 13th last year.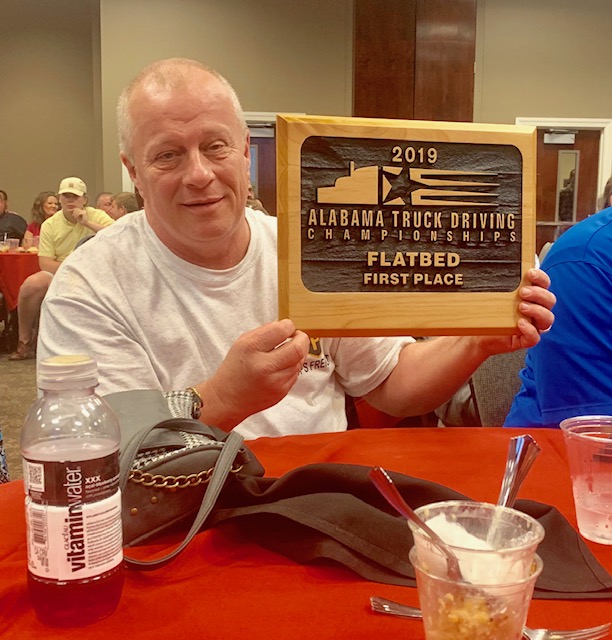 But the rules of the competition forced him switch vehicles this year, so he jumped in a 3-axle and won again. He scored 365 points, winning his classification by 50 points for a spot in the National TDC in Pittsburgh in August and the overall title by less than 15.
"I hadn't had a license in a combination vehicle for only six years now," Hawk said. "Straight trucks is all I drove for years and years and years, so I've worked my heinie off for this."
The other division winners included last year's State Grand Champion Mark Knight of AAA Cooper Transportation (twins), Gary Nuckolls of AAA Cooper Transportation (sleeper), Rodney Cosper of UPS Freight (flatbed), Kenneth Lockhart of FedEx Freight (tanker), 2007 National Grand Champion Alphonso Lewis of YRC Freight (5-axle), 2017 State Grand Champion Cecil Salter of FedEx Freight (4-axle), William Brandon of FedEx Freight (straight truck) and Robert Morris of FedEx Freight (step van).
Gregg Luther, a 4-axle competitor from XPO Logistics, was the Rookie winner in record field of first-time competitors. Philip Arthur from AAA Cooper Transportation, another 4-axle competitor, won the Pre-Trip Award.
All nine truck classification winners have been to the nationals before. For Knight, this will be his tenth trip. For Lewis, his eighth. For Cosper, it's his fourth trip; interestingly, he hadn't driven a flatbed until he took it out on the road course Friday morning.
"Apparently, that's the way you have to approach it: A truck is a truck," Cosper said. "It's just like any other circumstance; you take what you have and make do with what you've got."
Experience clearly was key. This year's course was laid out tighter than years past, closer to the national course, and therefore a bit more challenging.
The drivers faced obstacles that included a three-barrel serpentine, curb stop, right steer tire, left rear tire, straight line and a triangular diminishing front stop. The routing was counter-clockwise rotation, where it had been clockwise the last four years, veteran competitors said.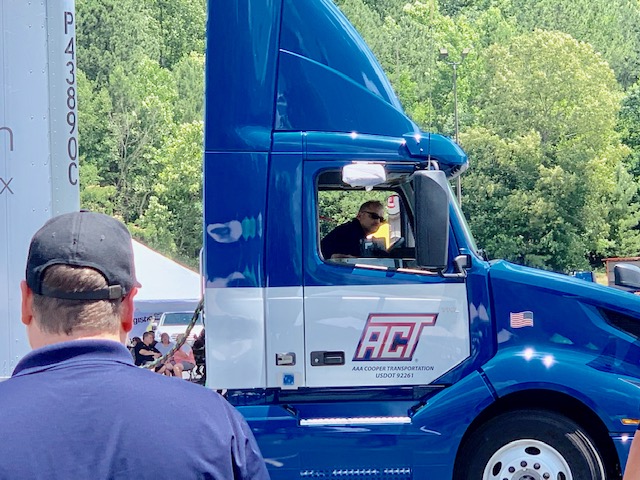 Knight called the course "very demanding."
"The way we set it up this year is a little bit different than the way we've set it up in the past," said Matt Frazier, the director of safety, compliance and security at Montgomery Transportation and son of Alabama Trucking Association safety director Tim Frazier. "We've always gone with a larger-scale yard than what the nationals did. This year we went to mimic what the nationals did and shorten everything up where it's a lot tighter.
"Used to with the (Alabama Trucking Association) you'd get through one obstacle, you're done, you'd go to the next one, you're done. The way we've set it up this year while you're in the serpentine you'd better be setting up for the next one. If you're not setting up for the next one you won't score."
That's what happened to Knight. He brought his twins through the serpentine, but missed scoring in the curb stop and just went on to the next obstacle.
"It's to make it more like the nationals, that's the whole purpose," Frazier said. "The nationals are the cream of the crop. We want the cream to rise here, too. … This is the best of the best out here. These are the consummate professionals. They are what the industry could strive to be."
Regardless of the parameters, it was Hawk's goal to score at every obstacle. Six green flags let him know all the hard work he had put in paid off.
ALABAMA TRUCK DRIVING CHAMPIONSHIP
Grand champion – David Hawk, FedEx Freight
Sleeper – Gary Nuckolls, AAA Cooper Transportation
3-Axle – David Hawk, FedEx Freight
5-Axle – Alphonso Lewis, YRC Freight
Tank – Kenneth Lockhart, FedEx Freight
4-Axle – Cecil Salter, FedEx Freight
Straight – William Brandon, FedEx Freight
Flatbed – Rodney Cosper, UPS Freight
Twins – Mark Knight, AAA Cooper Transportation
Step van – Robert Morris, FedEx Freight
Rookie – Gregg Luther, XPO Logistics
Pre-Trip – Phillip Arthur, AAA Cooper Transportation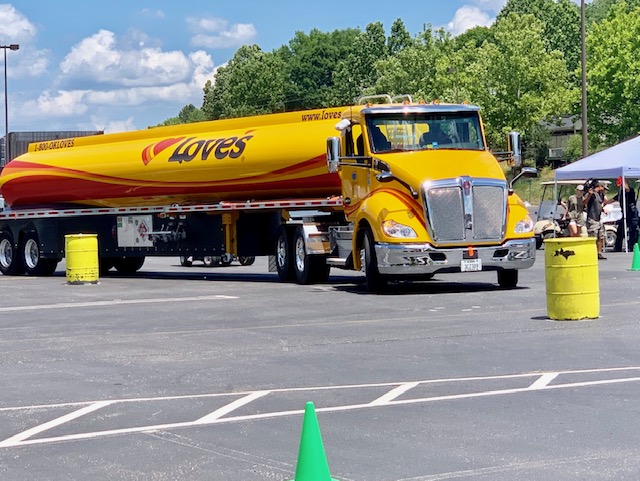 Top photo: David Hawk of FedEx Freight was the Alabama TDC Grand Champion. Top inset: Rodney Cosper of UPS Freight won the flatbed division despite never driving one before Friday. Bottom inset: Mark Knight of AAA Cooper Transportation, last year's state Grand Champion, checks his surroundings through an obstacle; he's going back to the nationals as the state twins champion. Bottom photo: James Cottrell of Greenbush Logistics tries to maneuver his tanker through the serpentine.