Tennessee carrier's largest Driver Appreciation Week program just an extension of what it does for drivers all year long

By Al Muskewitz

The management team at Big G Express likes to do things for its drivers throughout the year, but when Driver Appreciation Week comes around it pulls out all the stops.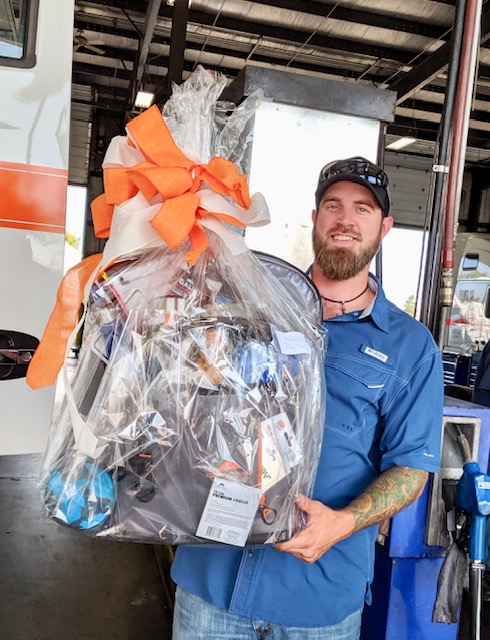 The Shelbyville, Tenn.-based carrier celebrated all its drivers and greeted more than 75 percent of them during activities at its I-81 terminal in Russellville and I-840 terminal in Mt. Juliet last week.

This year's appreciation program was the largest in the employee-owned company's history, with bigger prizes and more fun and games than they've ever offered before.

"It is hard to sum up in one week how much our professional truck drivers mean to us here at Big G Express," director of recruiting and driver services Terry Conquest said. "Week in and week out all year these men and women work hard to provide for their families, Big G Express and the millions of people who are provided products and services across the U.S.

"Our drivers are indeed the driving force here at Big G and we are proud to show them how much we appreciate and value them not just at this time of year but every day."

It was truly a company-wide effort. This year each department had a hand in crafting nine "amazing" gift baskets that were given away as prizes. The Extended Coverage team won the internal competition, designing a replica Big G trailer that held all the goodies that were included in the package. Driver Brandon Jordan won the prize.

Every driver in the fleet was a winner: Each received a commemorative T-shirt and more than 300 drivers won prizes in random drawings.

"We really focus on appreciation year round and try to recognize our drivers all year, whether it's just giving out shirts and hats to the Big G grill that travels around to our terminals, but specifically during this week we try to do a little extra," marketing and communications manager Jodi Lamb said. "I hear it often from our drivers: You guys do so much all the time."

Donald Scharklet, a 10-year Big G veteran from Portland, Tenn., with more than a million safe miles who rarely goes away on vacation, won one of the week's biggest prizes – a $1,500 vacation package. The carrier also used the occasion to celebrate Murfreesboro driver Tim Chelette being named Pilot/Flying J's 2019 Road Warrior, a $10,000 prize for demonstrating superior efforts in the trucking industry.

Chelette, a Big G driver for 15 years with nearly 2 million safe miles, is a 2019-20 America's Road Team captain and former Tennessee Driver of the Year. He's a take-charge kind of guy who likes to grab a project by the horns and run with it and over the past four years has spearheaded an annual charity motorcycle ride that has raised more than $30,000 for St. Jude Children's Hospital.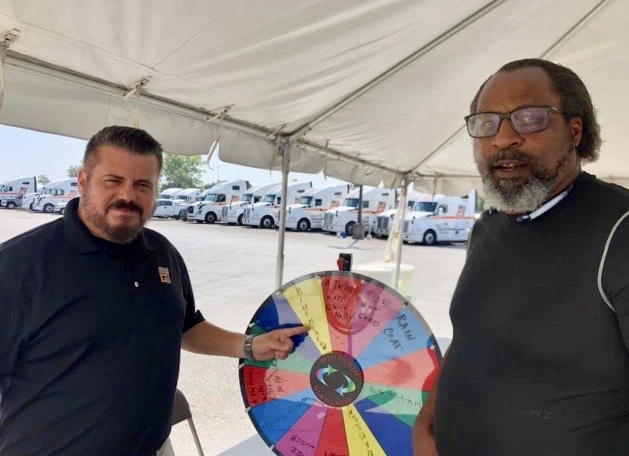 This year's 200-mile ride through the scenic backroads of Tennessee drew a record 85 riders despite being rescheduled due to weather-related road conditions and raised nearly $15,000.
 
"I was pretty excited the day I found out (about the award), but when I woke up the next morning is when it really hit me," Chelette said from the road somewhere in Ohio. "I found out there were 7,500 stories submitted and out of all those stories mine stuck out just a little bit more than the others, not that they didn't have great story, but something in my story stuck out just a little bit more. That is just unbelievable. That's a wow moment for me. I live each and every day to try and do for others and when that hit me I'm like I'm doing it."
 
The 53-year-old driver plans to pay off his motorcycle with his winnings and take his wife Teresa on a cruise.
 
Chelette didn't win a prize in the company drawing last week, but it didn't matter. He knows he's appreciated.
 
"Big G does stuff for us all throughout the year," he said. "When they have the Driver Appreciation Week they don't cut any corners. When you find a company that really appreciates their drivers like Big G does you know it; that's why I've been with them 15 years in November because of the fact you fit in. You found the company where you fit in, you enjoy doing your work, they enjoy the work you do for them and they turn around and give it back to you with the appreciation they show."
 
And not just during Driver Appreciation Week. Chelette related a first-hand story where he was on the job in Rhode Island and got a call that he needed to be back in Tennessee for a life-changing meeting first thing the next morning. Company president Randy Vernon found a way in 10 minutes to make it happen.
 
"When a company does that for a driver that's when they really show their appreciation," Chelette said, "and Big G has done that for so many drivers."

Al Muskewitz is the editor for Wright Media

Cover photo: Big G Express driver Tim Chelette was the grand prize winner of the Pilot/Flying J Road Warrior contest, kicking off the carrier's Driver Appreciation Week activities.