CHATTANOOGA, Tenn. – Comfort and efficiency are big selling points when you spend all your time on the road and Covenant Transport is making it happen for its drivers while helping the bottom line.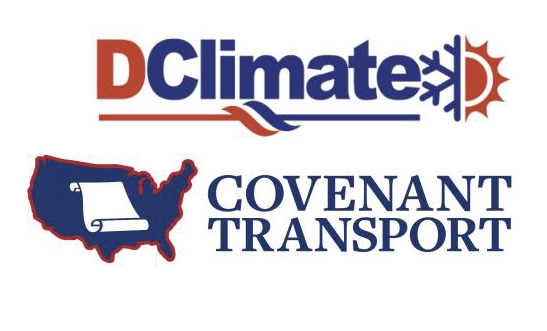 The Chattanooga-based carrier recently partnered to test the DClimate Hybrid APU system's performance on two of its Peterbilt 579 Ultraloft tractors in pursuit of providing climate control for driver comfort while preserving battery life and improving idle run time. The goal was to surpass current runtime performance over conventional electric HVAC systems.
Continuous uninterrupted system availability, increased runtime through the battery management system, reduced idle times and enhanced fuel efficiency and driver comfort were key variables the testing achieved.
"We knew we wanted an APU that was battery-operated, had the capacity to consistently run through the drivers' rest breaks and was very reliable," Dan Porterfield, Covenant Transport Services' vice president of maintenance, said in a news release announcing the project. "If we accomplished that, we knew we'd be providing a benefit to our drivers and lower operating expenses."
The primary goals and objectives of Covenant's trial run with DClimate units were to gather driver acceptance of not only the tractor but the Hybrid APU System for rest periods in high heat regions and extreme cold across the United States. The DClimate system was chosen with both driver and fleet in mind, offering 7,000 BTU heat and A/C output, a patented battery management system offering longer life and runtimes, virtually whisper-quiet operation and cost-efficient return on investment.
The test resulted in driver comfort with single-digit idle times, significant fuel savings, a runtime well past the 10-hour rest period requirements, extended battery life and all with optimized air distribution and airflow. After nine months of testing, Porterfield said Covenant is ready to move on with other tractors in the fleet.
"Fleets are looking for partners who offer solutions to problems that are cost-effective and keep their goals of driver retention and sustainability on the forefront," DClimate project manager Joanne Bjick said. "Our test with Covenant proved the DClimate Hybrid System offered driver comfort with significant fuel savings and decreased idle times without sacrificing performance."
Phil and Vivian Spencer have been team drivers with Covenant for more than 15 years. They drove one of the two test trucks and Vivian said the system made their "little 'home away from home' feel more like our real home."
"Having this system allows us to rest comfortably, in summer and in winter, without having to idle the truck," she said. "The system is so easy to use that it's virtually set it and forget it. There is no need to run the engine to keep the batteries charged, with the added benefit of having the stop/start function installed.
"The stop/start feature allows the truck to start the engine automatically and run for a brief period of time should the battery voltage fall to 11.8. This allows the batteries to maintain a level of 11.8 to 12 volts or more at all times. That's real peace-of-mind, just knowing the truck will keep us warm in the winter and cool in the summer without having to idle the truck. Less idle, less fuel consumption, less wear and tear on the engine.
"We've seen our idle percentage reduced significantly since the installation of the DClimate system, going from being among the highest percentage of idle time to being nearly at the bottom of the list. The other test truck usually has the lowest idle percentage … Honestly, it has become a vital part of our trucking journey. A well-rested driver is essential to being safe while sitting in the driver's seat and with DClimate we are able to get good quality rest. Peace of mind, just knowing that we can sleep quietly and wake up feeling refreshed and ready to tackle the day."