By Al Muskewitz

Drivers and fleet managers have enough to worry about getting their trucks and loads across the country without having a surprise throw a wrench into the operation. Trailer manufacturer Great Dane is providing them a little more peace of mind with a new monitoring system designed to keep tabs on the operational health of their trailers.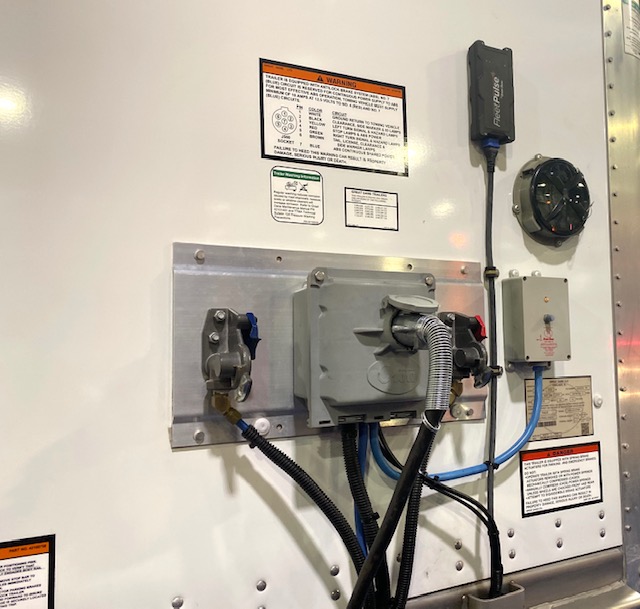 The FleetPulse system integrates directly with trailer components and delivers real time data reporting to drivers and operators to the cloud through 4G LTE.

The system monitors as many as 10 specific segments of a trailer's operation, 11 if it's a reefer. The system's components and sensors will be compatible with all types and makes of trailer.

"At the end of the day, smart and connected trailers lead to safer trailers on our shared roads, and it's incumbent upon the trailer OEMs to collectively take advantage of the cutting-edge technology that is available to us," Mike Molitor, Great Dane's director of business development, told reporters at last week's North American Commercial Vehicle Show in Atlanta.

Through the FleetPulse system, operators can track actual trailer mileage from tire rotation and monitor tire inflation, ABS fault codes, door sensors, rear axle weight, lighting systems and the location, use and maintenance status of specific trailers. For refrigerated trailers, there's a two-way temperature monitor integrated for both Carrier and ThermoKing reefer units.

"It's more than GPS," product manager Chris Hoyt said.

One "large fleet" operator visiting the company's booth expressed frustration over determining the actual mileage logged by his trailers. When Great Dane officials demonstrated the FleetPulse system, he was reported to say "I need that across all of them."

Molitor told reporters that within the last three years eight companies have entered the trailer-tracking space and projected by 2023 every trailer maker will have some form of telematics platform on their trailer. Great Dane's system is integrated right from the factory.

The approximate cost for the Fleet Pulse system is $1,500, which is rolled into the cost of the trailer, and Great Dane is waiving subscription fees (between $30,000 and $60,000) for the first three years of usage. It brought on several customers during the show.

The NACV Show appearance may have been the initial public rollout of the system, but Great Dane isn't done with the development.

"This isn't the end of it," Hoyt said. "We know new sensor points are coming out there, we know there are different things going on with smart distribution centers and autonomous driving so were really trying to make the platform for an IOT ultimate trailer."

Al Muskewitz is Editor-in-Chief of Wright Media Corp.