About Us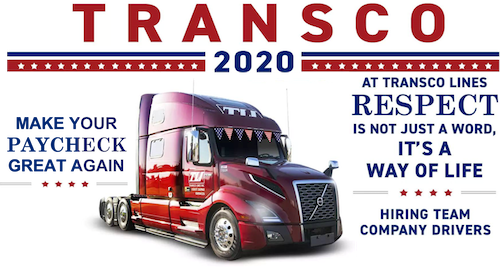 Transco Lines, Inc. was founded in October 1984. The Company is headquartered in beautiful Russellville, AR on I-40 between Little Rock and Fort Smith with additional Full Service Maintenance terminal in North Little Rock. Our locations afford our drivers easy access, modern maintenance facilities, and complete amenities for drivers while they are in town. We regularly win awards for service from our excellent client base.
Transco Lines operates over 350 power units and 700 dry van trailers. Our fleet consists of 175 solo drivers and 170 teams. Our niche in the marketplace is customized service for customers requiring Just-In-Time performance. We pride ourselves on providing ultra-modern assets for our drivers and superior service to our customers.
Thank you for taking a few moments to learn about TLI. We're glad you did!
Current Jobs
(3608 jobs and locations)
Transco Lines, Inc.
hiring in San Felipe TX, Canmer KY, Lincoln Park MI and 2087 other areas
15,000 Sign-On Bonus! Paid out in their first year. Solo drivers home weekly for reset or stay out longer for more miles Dedicated customer no-touch freight Company and lease drivers needed Benefits: free in-cab WiFi, pet and rider program Health dental vision and company 401k Company and lease sign-on bonus Drive with us and earn 45cpm - 52cpm! Plus Bonus Monthly ...
Transco Lines, Inc.
hiring in Wing AL, Aurora IL, Mayo FL and 756 other areas
NEW PAY INCREASE! TEAM DRIVERS Sign-On Bonus Up To $10,000! TLI is looking for Over the Road Lease Purchase and Company Teams. We are hiring Hazmat and Non-Hazmat drivers. Company Teams can earn .50-57 CPM depending on endorsements and experience. We are hiring for Network OTR & Dedicated ask what is available in your area. A sign-on bonus is available. GREAT ...
Transco Lines, Inc.
hiring in Pascagoula MS, Mobile AL, Baton Rouge LA and 756 other areas
TEAMS WITH HAZ & DOUBLES Guaranteed MILES • 20K bonus • 1500 per week per driver Haul & Equipment 5,500 – 6,000 Miles Per Week • 98% Drop & Hook • Latest Model Kenworths, Peterbilts, Freightliners & Volvos Whiles other companies are slowing TLI teams are Growing! Make your paycheck Great again! Great Benefits! Safety Inspection Bonus • Paid...