Small carrier wins big at Alabama Fleet Safety Awards
By Al Muskewitz

Brian Lindley was both honored and humbled last year when his LB3 trucking company was recognized as the safest fleet in the state of Alabama. He wasn't surprised because the company has invested a lot of capital into its safety program the last couple years.
This year he was a little more than surprised. Not that the company was recognized again for its strong safety record, but by the sheer volume of its success.

The modest 20-truck carrier in rural Randolph County, some 40 miles from the nearest interstate, took home three of the four major individual awards at this year's Alabama Trucking Association Fleet Safety Awards.

The carrier had the Driver of Year (Nathan Heflin), Safety Professional of the Year (Valerie Lindley) and Maintanence Professional of the Year (Todd Martin). It also had the Driver of the Year runner-up (Jason Webber), the third-place finisher among Fleet Managers (Jimmy Price) and was runner-up for the President's Award as the state's safest fleet because the winner, New South Express of Mobile, ran more in-state miles.

"It's quite spectacular," Lindley said. "It's something you never dream of that happening. They didn't really want to go through that and do it, but I told them I knew how good they were and I just wanted the rest of the state to see it. It really just gives a unified visual of the entire company and the mindset of safety and how important that it is in every aspect of our business."

Tim Frazier, the ATA's vice president of safety and compliance, said as best as memory serves it has been 14 years since a carrier had both the Driver of the Year and runner-up and nearly 10 years ago since one won as many as three of the professional awards in a single setting. Montgomery Transport won two during last year's virtual awards program – Driver of the Year (Rosko Craig) and Safety Professional of the Year (Matt Frazier).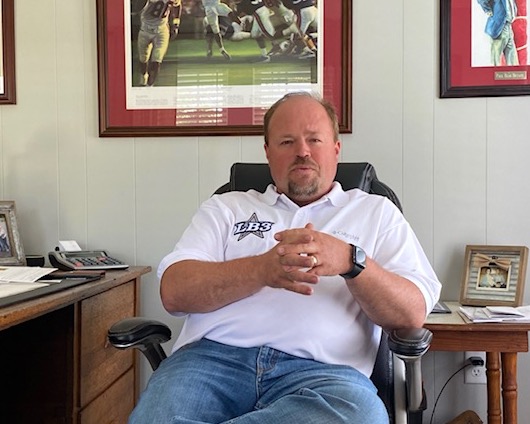 "It was pretty unique for them to win as many awards as they did, especially in the professional awards," Frazier said. "They've just got a unique operation going right now. Our judges who do that (troopers from ALEA truck inspection division), don't just look at a driver's mileages or a safety department's numbers and things like that. They look at the folks who are involved, the association, the activities we do, their civic duties and all the different responsibilities they have and they (LB3) just have some unique entries this year."

"This probably won't happen again," Lindley said.

Of course, he wasn't talking about the company's commitment to safety, but having so many of its personnel recognized at one time.

"It's pretty nice to be involved with a company that can have that many people at the top," Heflin said. "We've got an excellent group of individual people who work really well together as a team. The sum of the parts is more than the parts themselves. The individual parts of this team are absolutely phenomenal.

"I am extremely happy to be with a company that can do that. I never worked for any of the really big companies more than just a short stint, they've always been small companies, and the safety culture at a lot of small companies is not necessarily as good as it could be, and that's one thing I been impressed with here – even before the ELDs we were safety conscious. It's surprising to see it in a company as small as we are and it's pleasant to be around. You don't have to worry about whether your co-workers doing something stupid that day and you don't have a job tomorrow. We're better than that."
Driver of the Year
Nathan Heflin is coming up on five years with LB3 and has successfully logged nearly 2-million safe driving miles in 15 years on the road. While he doesn't seek recognition for "just doing my job," he has earned several safe driving awards, been Driver of the Year runner-up twice at previous employers, Rookie of the Year runner-up once and just recently was selected as LB3's top driver by his peers.
Lindley said the qualities that set Heflin apart are his attention to detail starting with his bumper-to-bumper pre-trip inspection and mindfulness of his surroundings.
"He is one of the most meticulous people I have ever met," Lindley says. "He is conscientious about the vehicle and equipment to the point that sometimes I wonder if he is a little too nitpicky. Truth be told, he's usually right, and I would rather have drivers who really care about the attention to detail. Those are the ones you want to retain, and those are the ones who will ultimately make you look good."
Safety Professional
Valerie Lindley isn't much for the spotlight. She's a no-nonsense fleet manager who prides herself on staying behind-the-scenes while she pays close attention to the details others might miss. In her view, the granular tasks of trucking add up to build a successful safety program.
In 2014, she left a successful career as a teacher to help her husband Brian start the trucking company from scratch. She had no experience in trucking, other than occasionally helping out with bookkeeping or other administrative tasks for the family's poultry farm business. Yet, she was a quick study, smartly used her resources, and has been instrumental in the company's meteoric growth and success.
Most safety directors serve several roles for trucking businesses, and Valerie is without question the lifeblood for hers. She handles all the company's administrative duties, including payroll, bookkeeping, safety compliance, personnel, and other tasks, including putting together the packets on LB3's Safety Fleet Awards candidates as detailed as you might find in the Best Fleets to Drive For questionnaires.
Maintenance Professional
Todd Martin has worked in trucking for more than 23 years and is among the state's most technically trained maintenance pros. Through the years, he has received dozens of certifications in various maintenance and leadership programs, holds a Diesel Technology degree, and possesses a current Class-A CDL.
He began his career as a Tech 1 mechanic and worked his way to becoming service manager and safety coordinator at a branch location with Penske. His extensive training and experience have provided LB3 a 20-percent reduction in vehicle inspection violations.
"Because of Todd's leadership, our equipment and drivers are safer than we have ever been," Lindley said. "If you ask him about the importance of his role as maintenance director, he'll tell you that safety is always his main focus. I can't tell you how comforting it is to know that he's there."
Fleet Manager
Alan Howard has worked in the trucking industry for more than 21 years, the last six with Blair Logistic of Birmingham.
He currently manages 33 drivers who collectively have helped Blair earn several accolades for safety and compliance, including the company's Clean Inspection award six times, Top Revenue Fleet three times, and twelve winners of the Contractor of the Month award. He even has three drivers on his team who have each reached more than 1-million safe miles.

"In order for someone to be successful, I believe they help those around them to be successful," said Jeff Loggings, Blair's vice president of safety. "Alan is a great coworker and is well-deserving of this award for his work inside and outside the office."
President's Award
New South Express, Inc., which hauls lumber and wood products from a terminal in Mobile, earned the 2020 President's Award as ATA's safest overall fleet for miles driven by company drivers within the state of Alabama.

The fleet, one of a record seven qualifiers for the award, logged 975,531 in-state miles without a recordable accident. LB3 was second with zero accidents over 491,558 in-state miles.

The following companies received Improvement Awards for earning safety records or improved safety metrics for the previous calendar year. A total of 45 companies participated in this year's program.
AAA Cooper Transportation, Inc.
Action Resources, Inc.
Boyd Bros. Transportation, Inc.
BR Williams Trucking, Inc.
Brown Trucking, Co.
Buddy Moore Trucking (Flatbed)
Buddy Moore Trucking (Van)
Changing Spaces Moving, Inc.
Evergreen Transport, LLC
FedEx Freight, Inc.
Greenbush Logistics, Inc.
Gulf Distributing Co. of Birmingham
Gulf Distributing Co. of Mobile
J&M Tank Lines, Inc.
LB3, LLC
Montgomery Transport, LLC
MT Select, LLC
MTB Transport, LLC
National Strategic Transport, LLC
New South Express, Inc.
P&S Transportation, Inc.
Perdido Trucking Service, LLC
Publix Super Markets, Inc.
Red Mountain Transportation, LLC
River Valley Ingredients
RM Logistics, Inc.
Ross Neely Systems, Inc.
Scott Bridge Co.
Shelton Trucking, LLC
Southeast Logistics, LLC
TCW, Inc.
Wal-Mart Transportation, LLC
Wright Transportation, Inc.

"The people who are members of the association as a general rule, most of them run a class operation; they're just on top of it," Frazier said. "The majority of folks who are members I will tell you they are not your just average run-of-the-mill operation. They've just got some great programs in place where they're just on top of it."

The ATA Comp Fund, also announced its Risk Management Safety Award winners:

Bay Lines, Inc. – Small Fleet Safety Award
Busby Trucking, Inc. – Medium Fleet Safety Award
Watkins Trucking Company – Large Fleet Safety Award
Gulf City Body & Trailer Works, Inc. – Allied Services Safety Award
American International Movers, Inc. – Moving & Storage Services Safety Award
Atomic Transport, LLC. – Safety Excellence Award

The following companies earned Director's Awards, given to Comp Fund members who have shown substantial improvement during their participation in the Fund: Doubleback Transportation, Max Coatings, Seminole Express, Volume Transportation.

Al Muskewitz is Editor of Wright Media. He can be reached at musky@wrightmediacorp.com